Nowadays that people and taxpayers have a question linked to the New tax system that is GST.GST is a good and service tax that is essential for selling goods for domestic consumption. So forgiving solutions to the questions the government has created GST Helpline with an expert team of executives who will guide millions of taxpayers.T hey will help in fulling the procedure linked to GST, GST registration, GST Return,  GST software and GST payments, etc. There many ways you can connect to GST helpdesk for different matters
Let us explore the ways to contact and connect with GST Helpline.
GST Helpline Toll-free  Number
The GST council and government of India has established a toll-free number for customers in India. You can Contact on this GST Customer Care number: 1800-1200-232 for inquiry related to GST or filing complaints or GST Penalty, Offences, and Appeals. This helpline number is valid in all the states of India. This number serves you 24×7 in 6 languages, just feel free to call on this number. Even you can share feedback and suggestion on this number.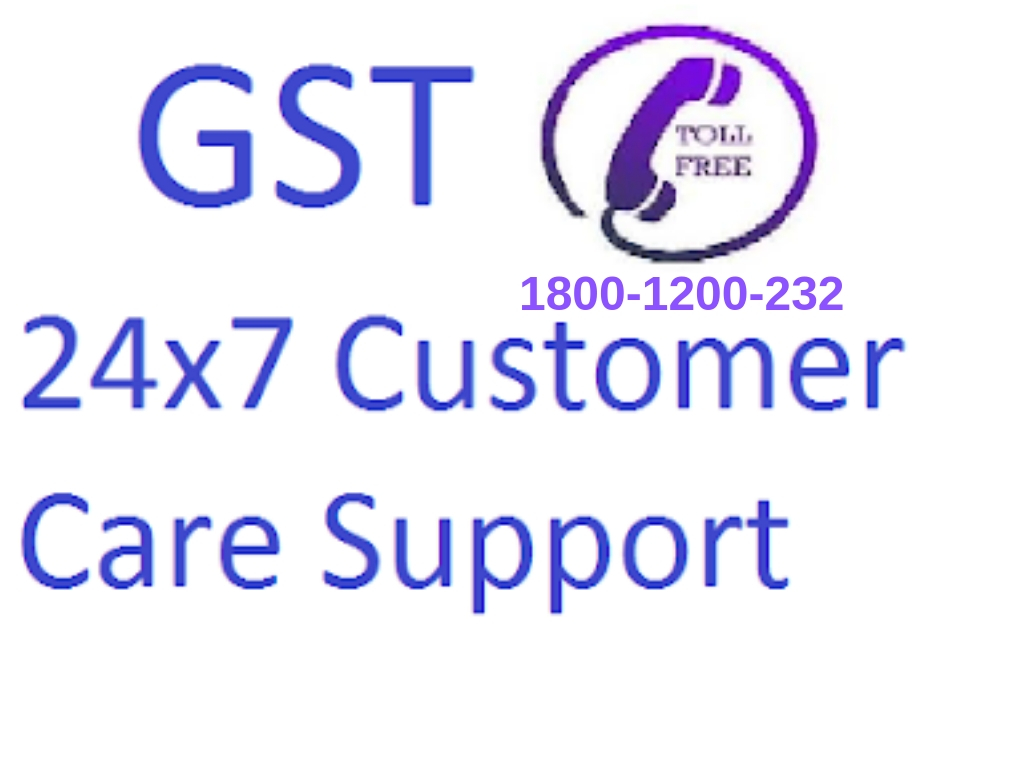 GST Helpline Number for GST portals
To acquire GST portal helpline number link to this website  https://www.gst.gov.in/contact taxpayers can connect to this number to get support with questions associating to GST Registration,  payments, return or GST Portal access. The registered operations or persons on GST Portal can also access this number for GST registration.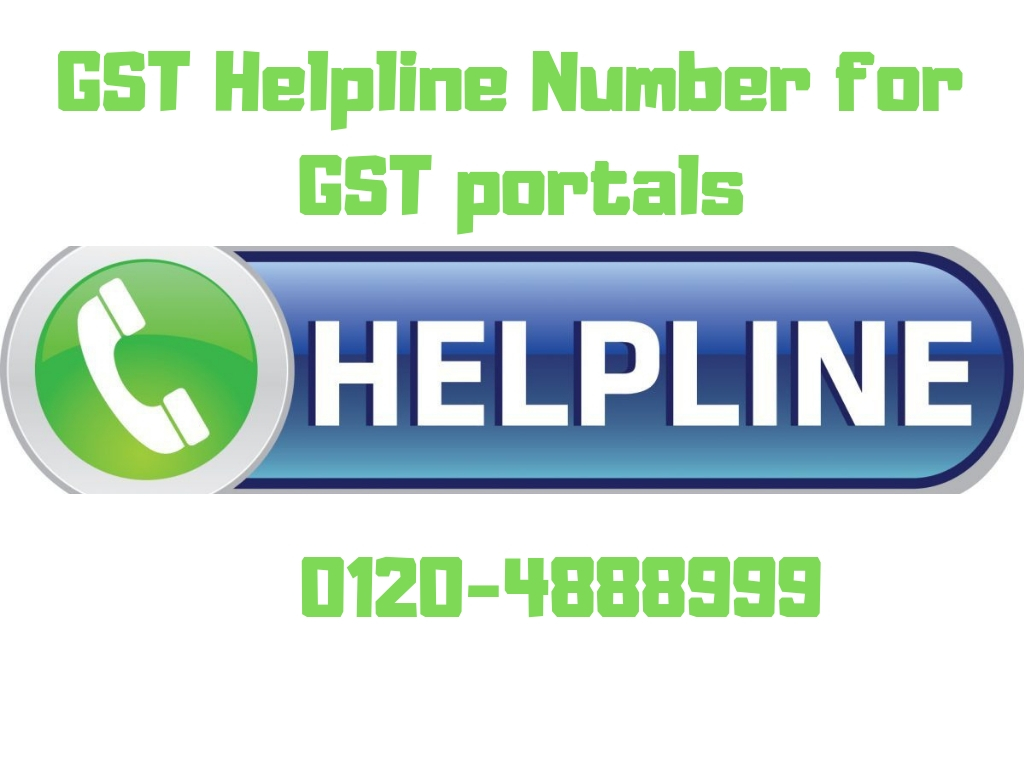 You can send emails to the executives on cbecmitra.helpdesk@icegate.gov.in.Its the team of support who will help you in all the query related to payments, returns and registration. They will also resolve the issues of complaints about your GST portals. You can just drop a message on the email id provided above and you will be connected by the executives within the 24hrs.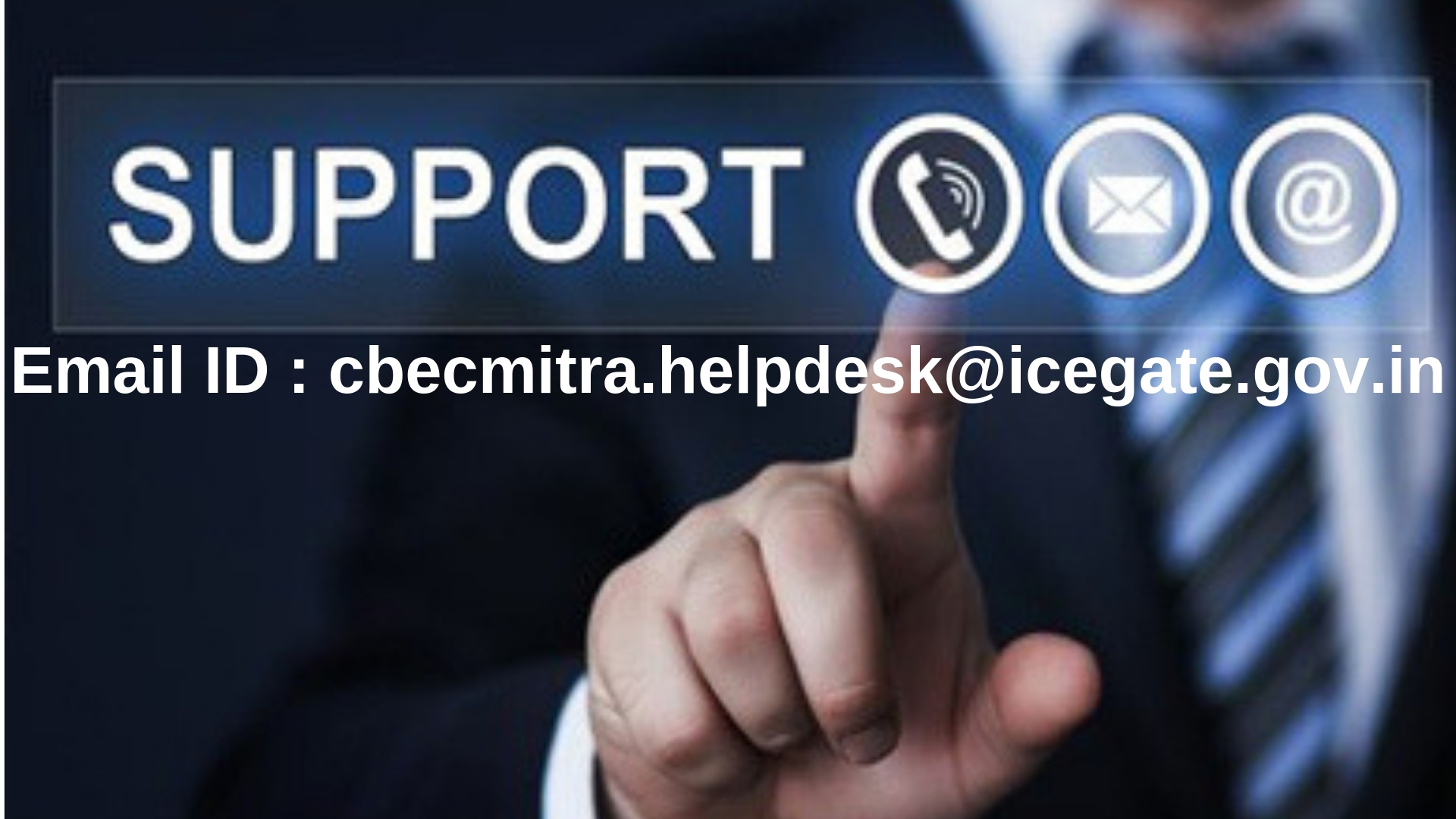 If you want to visit the offices for GST Helplines you can nearby Kendra in your area. The government of India has soothed the efforts and burden faced by providing these centres for taxpayers or the small businessman in filling the GST Returns. Serving the registered taxpayers in legal documentation and procedures. They clarify all the documents and procedures meaning to you. All GST Seva Kendra's have executives ready to recover GST compliance and help under the guidance of GST rules and regulations. GST Seva executives are enlightened in all GST laws and procedures and can lead taxpayers with all their GST associated questions and demands.
GST Sect-oral Working Groups

The GST council has framed a group for smoothing working of GST. These groups will help to solve problems GST council address and GST interlinked issues faced by every sector linked with them. They have a team of all the senior officials of state and central government.  For their help, you can check the list of all the GST officials with all the details and information.
The CBEC Mitra Helpdesk helps in resolving all the complications with CBEC/ACES application. A user can contact the CBEC help desk using the contact details. The taxpayers and the Central government can connect to them for all the inquiry about GST related issues.
Details everyone can pursue inquiries or complaining a file:
GST Contact Email ID: info@gstn.org.in
GSTN Help desk Call Number (For taxpayers): 0124-4688999
GSTN Help desk Email ID: helpdesk@gst.gov.in
Helpline Number for Tax Officials: 0124-4479900
GST Help Desk Number: 011-49111200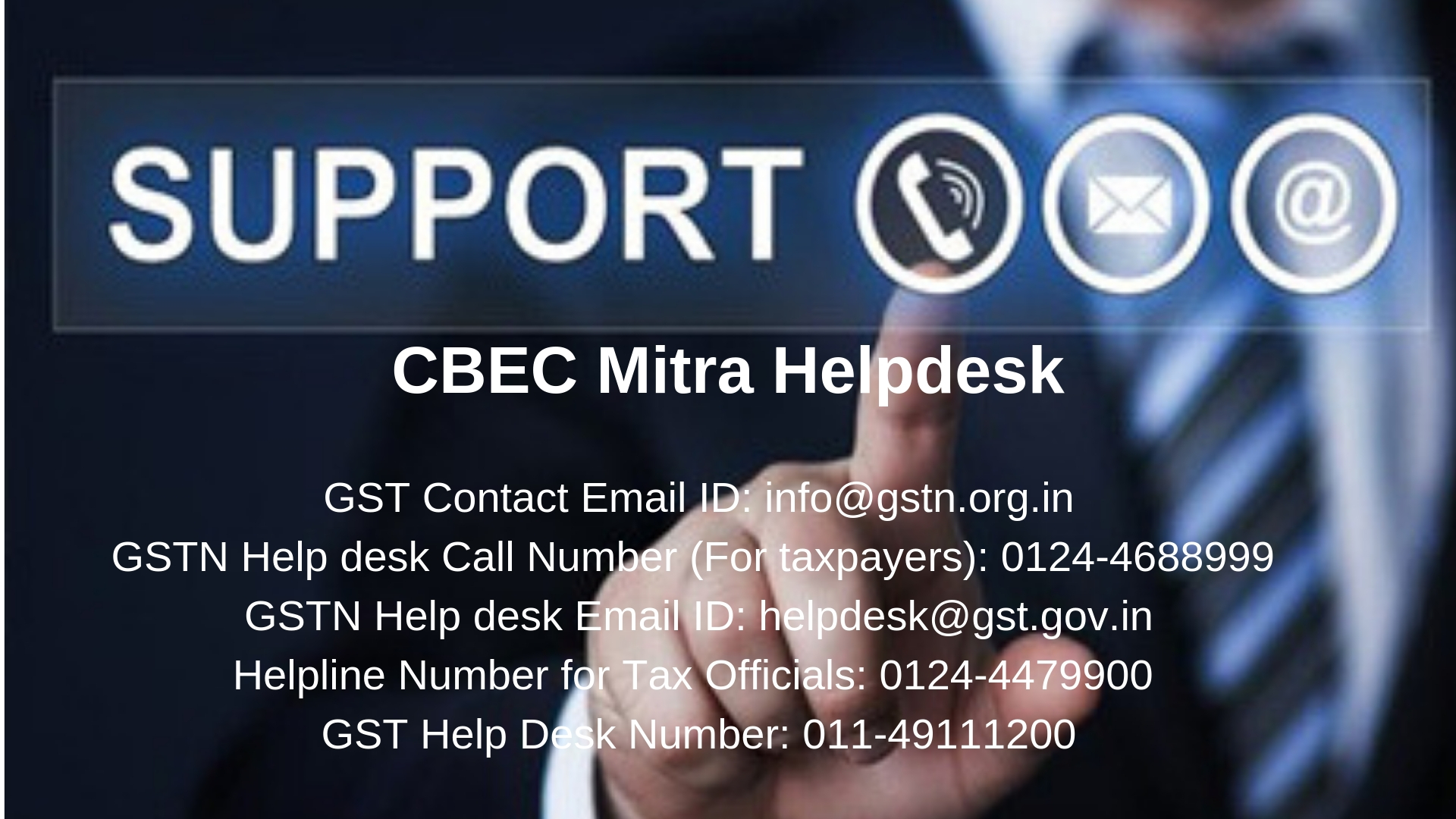 The GST department is ready to serve you on twitter. You can follow the official site of the page:
https://twitter.com/gsthelpline?lang=en.
You will receive all the update connected to GST and any for any issues or problem you can tweet directly to the department.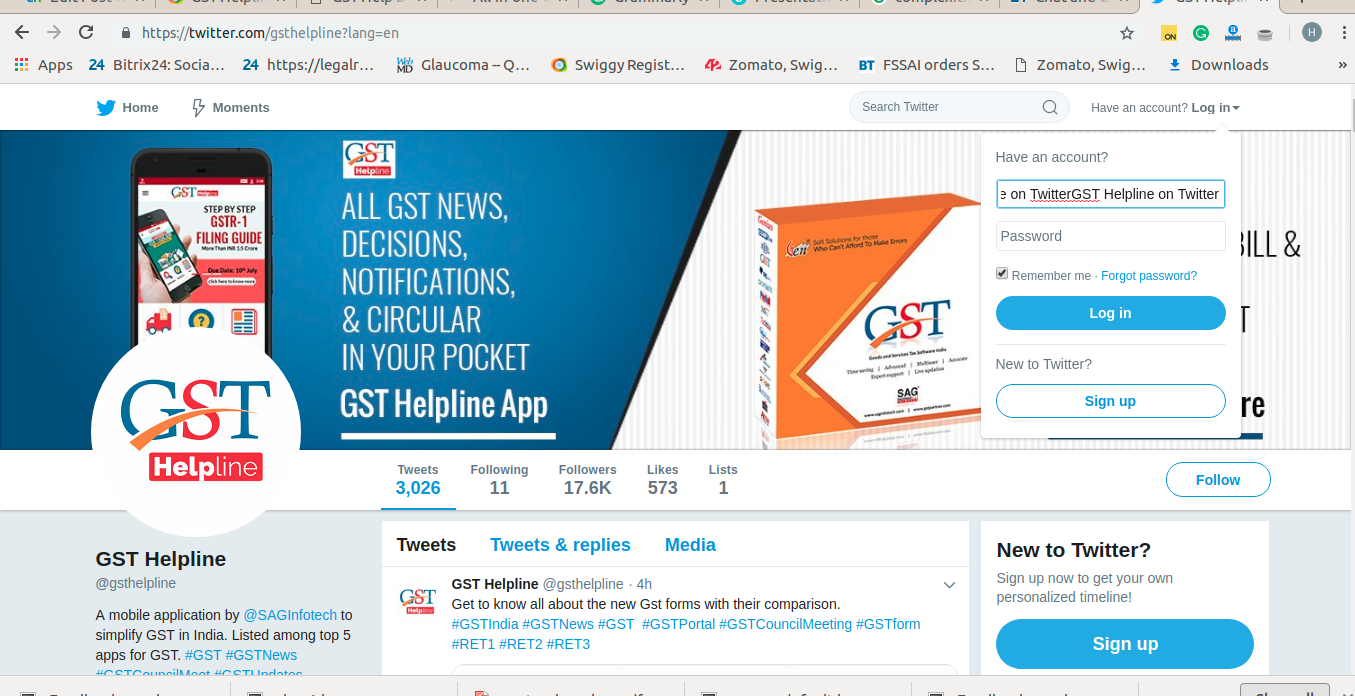 GST department is also connected to the Facebook page with all the updated regarding the GST and department. This is https://www.facebook.com/gstsystemsindia/ official page on Facebook you can send messages and ask for any query related to registration, payment or return. They will chat and connect with you at the same time.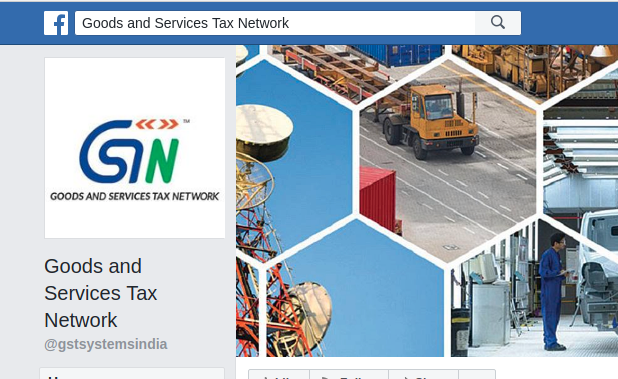 GST Department on Youtube
If you want guidelines for filling any form related to GST people can go the official channel of GST Department. You can find tutorials of any material or information linked with registration, return and fills. This will solve all the enquires of customers through videos.GST Helpline for Mobile applications
The upgraded technology has remarked the heights of easiness for the customers. You can now download the GST helpline apps on your mobile phones. The application will guide you all about GST. You can ask for queries and will get updated about all the changes regarding GST through these apps and even you can share all the issues connected to GST, registration process of GST or GST return filling.
You can visit into these links for downloading the apps of GSTHelpline
https://play.google.com/store/apps/details?id=com.gsthelplinehttps://itunes.apple.com/us/app/gst-help-l
https://itunes.apple.com/us/app/gst-help-line/id1151364557
The GST helpline is connected to Linked In for the purpose so that you can find the officials and employees of GST department. It is not updated but you can connect to all the officials of the GST department.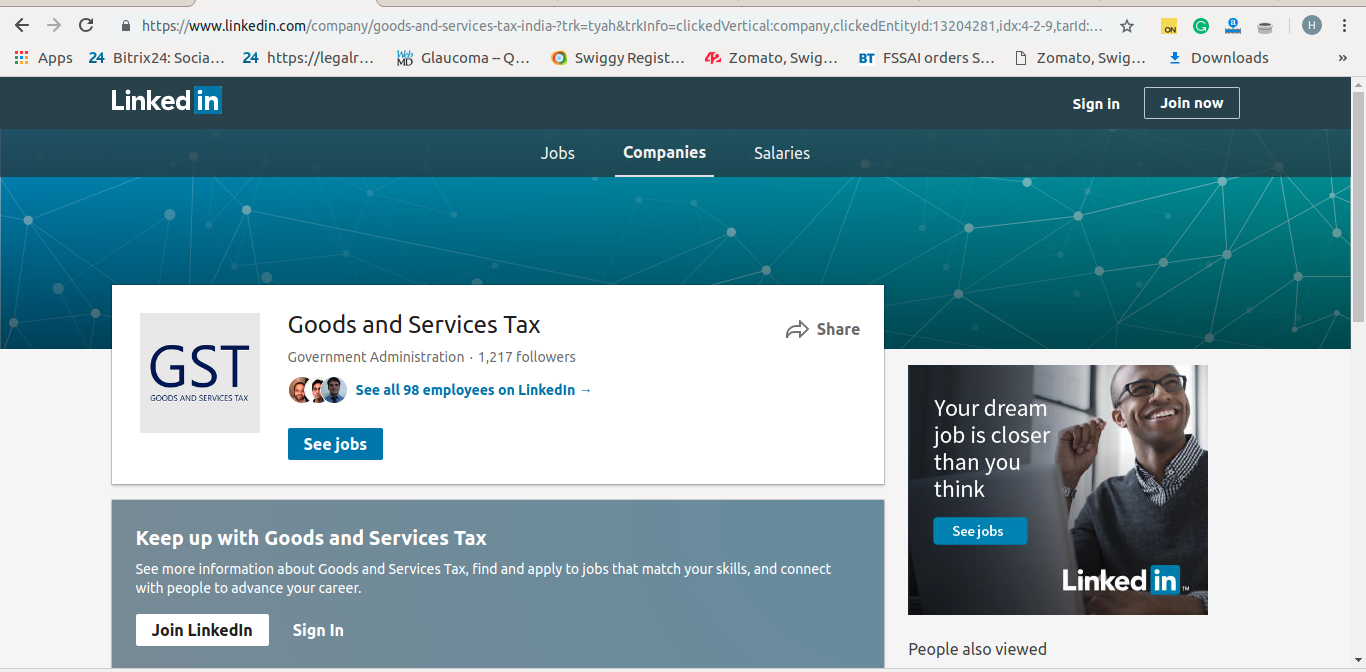 So all of the above GST helplines will cater to all the GST related queries and complaints you can just connect to them easily with contacting them online as well as offline. The GST headlines is a great guide and support and for the taxpayers for all their GST associated doubts.
For invoicing system and accounting, people are looking for free software for GST. Feel free to download the  GST software from our website. If you are planning for GST Registration or GST return fillings give us a call at  +91-8750008585, or drop a mail at contact@legalraasta.com. For more information, you can go through our website at LegalRaasta.
Reference Articles :

Advantages and Disadvantages of Composition GST