As you know currently most of the offline traders of the women fashion are dealing online. In this course, Voonik is an online arena of commercial dealings that operates in women's fashion products. It is based on an algorithm that is used to help users in finding the right products. The online store is based in Bengaluru, Karnataka. This was basically a mobile application before developing into a full-fledged website. There are over 15 lakh merchandise and 3000+ manufacturers on Voonik with 5 million+ users already. It serves as an awesome opportunity for a dealing in women fashion and accessories in India.
Voonik seller registration is completed through Voonik seller platform. It is used by businesses wishing to become Voonik seller for completing the registration process. Also, registered Voonik sellers use it for completing their sales orders.
Here are some few simple steps to get yourself registered on Voonik as its online seller:-
STEP 01: Go to Voonik seller platform
Either go to Voonik seller platform or to voonik.com and then clicking on 'Become a Seller' option. By providing your email, password, phone, company name and display name there, the registration process would be started.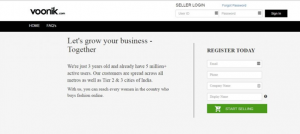 STEP 02: Provide Address details
As the registration process has been started, address details of the company would be required. If you want you can provide a pickup address also for the courier services for sale. Finally, address proof must be uploaded at this step to move further.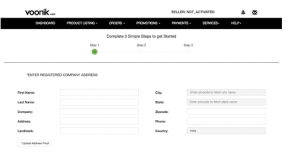 STEP 03: Accept Voonik Agreement for sellers
At this stage, you must accept the Voonik agreement for sellers or the Memorandum of Understanding (MoU) to go to the next step.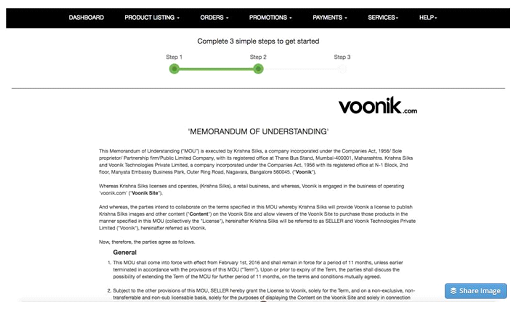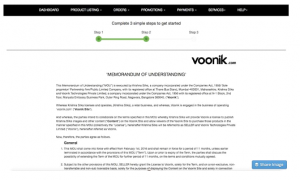 STEP 04: Provide Business details
Business information and tax information of seller are needed in this step. Nature of business (like proprietorship, partnership, private limited or limited company), TIN or VAT number of the seller, TAN number of the seller, PAN number of the seller, Aadhaar card details are needed. You must upload documents for their details.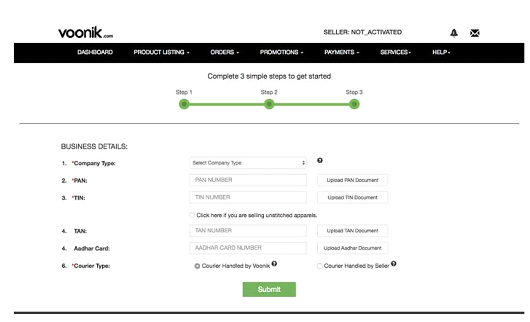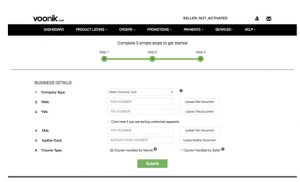 STEP 05: Provide bank details
In this step, the seller's bank account name, account number, IFSC code are needed with a copy of canceled cheque to complete the process.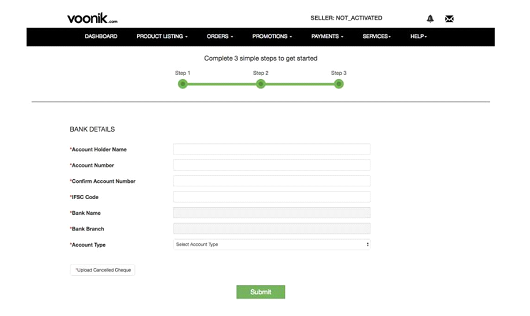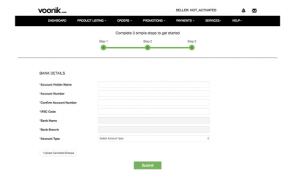 STEP 06: Confirmation
Then by submitting the form, it will display a confirmation screen. You will receive a call from Voonik to complete the registration process.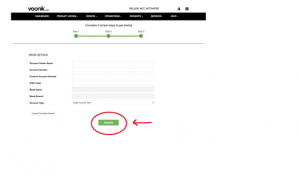 For completing the above process, certain documents are mandatory:
PAN Card of the Company or Firm.
VAT/TIN number
Bank account supporting KYC documents
TIN or VAT registration
To become a seller, TIN or VAT documents are necessary for all business. Excluding the selling of unstitched garments, this registration is obligatory.
PAN and TAN
It is obligatory on the part of the seller to submit the PAN. However, submission of TAN is not necessary and hence providing PAN with a copy of PAN card would be sufficient.
Personal PAN is needed in case of proprietorship business, business PAN is required in the case of a company, partnership or LLP.
BUSINESS REGISTRATION
As such there is no requirement for a specific business entity, still, it is preferable to register as an LLP or Private Limited Company in order to enjoy limited liability protection and easy access to credit. It further ensures that the entity is scalable and transferable in the future.
BANK ACCOUNT
Seller's bank account with a canceled cheque is required. The PAN, bank account, TIN and seller name would come as an individual's name in case of proprietorship and as a business name in case of a company.
TRADEMARK REGISTRATION
Any brand would get an exposure on an online platform at its beginning. So in order to protect and to avoid counterfeit goods or competitor showing the same product, the brand should trademark registration.