What is DIN?
A DIN (Director Identification Number) is basically a unique 8 digit number which is required for any existing or proposed Director of a company. It has been introduced in India by way of the Companies Amendment Act, 2006. DIN number is specific to a person that means even if he is a director in 2 or more companies then he has to obtain only 1 Director Identification Number. Apart from this, if he leaves a company and joins some other then the same DIN would work in the other company as well.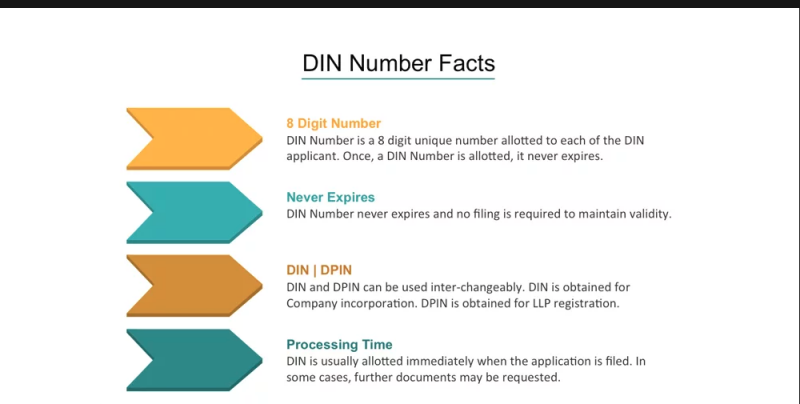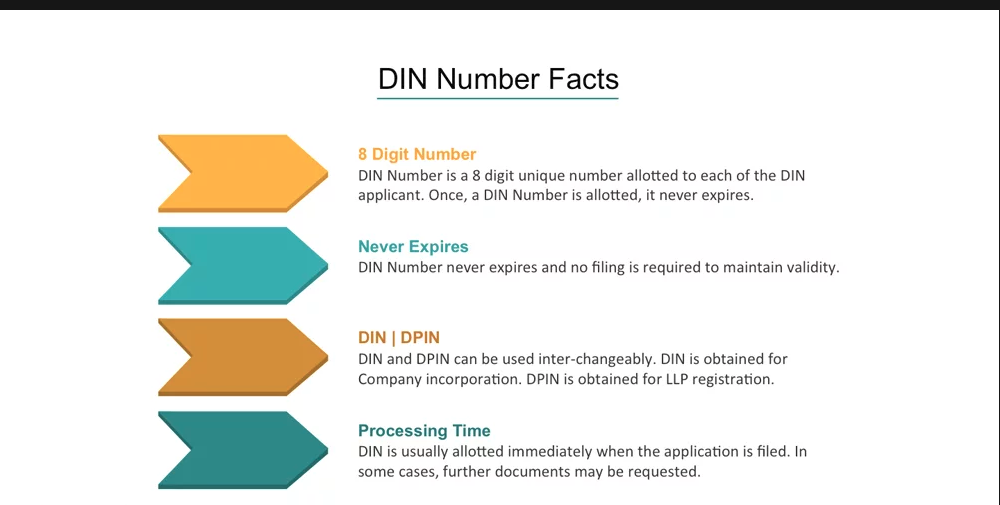 Where is the use of DIN?
Wherever there is any need of return, filing an application or any information related to a company under any law, then the director has to sign such return, application or information with his DIN number underneath the signature.
DIN Number Registration
DIN number registration is mandatory for any person who has an intention to get registered a Private Limited Company or Limited Company or One Person Company (OPC) in India. Through this, a person becomes a part of the Board of Directors. But, the Director Identification number is not required for shareholders of a Company. It can only be used for registering a Limited Liability Partnership (LLP formation) or an existing DPIN (Designated Partner Identification Number) can be used to register a Company.
Digital Signature Certificate (DSC)
Prior to the application of DIN, a Digital Signature Certificate (DSC) in the name of the DIN applicant must be obtained. You can obtain Digital Signature Certificate by the help of LegalRaasta. It is basically issued in the form of a USB token with a validity of 1 or 2 years. The applicant must submit the signed DSC application along with the identity and address proof of the applicant To apply and obtain DSC, the applicant must submit the signed Digital signature Certificate application along with the identity and address proof of the applicant. A Copy of the identity and address proof submitted must be self-attested.
In the case of foreign nationals or NRIs (non-resident Indians), it is compulsory to submit identity or address proof with a foreign origin, the self-attested copy must be notarized or verified by the Indian Embassy in the Country.
Identity Proof accepted for Digital Signature Certificate application
PAN Card – Mandatory for Indian Nationals
Passport – required for Foreign Nationals and Non-Resident Indians (NRIs)
Address Proof accepted for Digital Signature Certificate application
Passports
Driving License
Voters ID card
SSC student/ HSC / Graduation / Post-graduation Degrees Certificate
School leaving certificate
Electricity bill
Telephone/Mobile bill
Water Bill
Gas Bill
Property Tax/Corporation/Municipal Corporation Receipt
Service Tax/VAT Tax/Sales Tax registration certificate
Bank Statement attested by the banker
PF statement
DIN Number Registration
As soon as DSC is obtained for the applicant, the DIN application can be filed with the Ministry of Corporation Affairs. But the DIN application must be electronically signed with the Digital Signature Certificate. Therefore, the requirements for obtaining DSC prior to DIN. The application for DIN shall also include a photo of the applicant along with identity and address proof.
Read more: key changes in DIN application form
When the DIN application is filed and the application is approved, the DIN number is provided instantaneously. If any errors are being noticed in the DIN application, then the documents will be requested by the DIN cell. At the time of submission of the required documents, the DIN cell would then allot the DIN number in 2 – 3 working days.
Validity of DIN
Actually, DIN numbers do not have an expiry date and no further compliance formalities are required for maintaining the validity of a DIN number. It is allotted by way of intimation through DIN allotment letter and no other documents are issued.
DIN Number Search
Details regarding allotment of DIN numbers can be accessed through the MCA's Online DIN Search Facility:
Visit the Verify DIN/DPIN search facility, to find allottee information from a DIN Number.
Visit the DIN approval letter facility, to find DIN number from allottee information.
| Form Number | Motive |
| --- | --- |
| DIR-3 | Application for DIN allotment |
| DIR-3C | Intimation of DIN by company to the Registrar |
| DIR-5 | Application for surrendering DIN |
| DIR-6 | Application for changing details submitted in DIR-3 |
For more information regarding DIR-3 e-KYC, Digital signature registration, company registration or more, you can visit our website: LegalRaasta. Our experts will guide you and take away your tension of filing application. So, hurry up! Give us a call at 8750008585 and send your query on Email: contact@legalraasta.com
Related Articles:

Differentiation between TAN, PAN, DSC and DIN