EMitra: Introduction
The government of Rajasthan has set up an e-governance portal by the name of eMitra way back in the year 2004 in order to furnish citizen services as well as business services. The name eMitra finds its origin in the Sanskrit word Mitrah (मित्रः) meaning friend. Some of the services of this portal include utility bill payment, application, digitally signed certificate services, banking, telemedicine,  e-commerce services and many more with new services being added at every turn. As of today, the eMitra portal provides 149 G2G (government to government)  serving apps and over 110 G2C (government to  Citizen ) and G2B (Government to Business) serving apps.
The services of the eMitra portal extend across the 33 rural and urban districts of the state of Rajasthan. The service delivery points of the portal Center and Kiosks, also known as Common Service Centres (CSC), are run on a Public-Private Partnership Model of Company Registration. The CSC eliminate the need for visiting the government centers, as they aggregate all the information and services under one roof. Also, See Partnership Registration.
Implementation Structure of eMitra
Objectives of eMitra
The online portal of e-governance in Rajasthan has been implemented with certain objectives in mind that it wishes to accomplish. Following are the aims of the e-governance portal of Rajasthan.
Deliver a wide range of services of various government and private organization under one-roof in a citizen-friendly manner
Remove inconvenience of traveling to and facing the tribulations of a variety of offices for citizen services
 Women empowerment by providing business opportunities
Generation of  employment opportunities at the grass root levels
What is the Bhamashah Scheme?
The government of Rajasthan in conjunction with the e-Mitra online portal have devised a family-based programme where each resident family is issued a 'Bhamashah Card'. The card is linked to the bank account in the name of the lady of the house anointed as the head of the family. The Bhamashah card can be applied for at the official government website http://bhamashah.rajasthan.gov.in.  The benefits that the Bhamashah Card delivers to the citizens are as follows:
Education Scholarship for brilliant students
Free of Charge medical treatment at select hospitals for grave diseases and operations
Beneficiary Identification for free/subsidized ration Annapurna Bhandars.
Professional Training Courses for ambitious women
Components of the Scheme
State Resident Data Hub
Family Identification
Resident Identity card
Electronic Benefit Transfer
Financial Inclusion
Women Empowerment
Services of eMitra Portal
The eMitra portal has enabled the ease of governance in the state of Rajasthan by the range of services provided by the portal. A total of over 658 services are being rendered by the portal under various verticals. Given above is the Service Delivery architecture of the portal. In addition to this, we will go ahead and highlight some of the major services which will facilitate ease of delivery of citizen services.
G2C Services
Agriculture Department: Application form lling for subsidy/license, etc. such as subsidy on diggi/farm ponds/pipelines/farm implements, application for commercial grant of the license to sell stock and use of restricted insecticides for pest control operations, etc.
Commercial Taxes Department: Online submission & deposition of fees for RTI services; form lling for VAT registration/VAT amendment
DISCOM: Utility bill submission, the application form for new electricity connection
 Election Department: Application for addition/modication/ transposition of name in the electoral roll. Registration of complaint, search services and printing of electoral roll.
 Finance Department: Services of registration and entry of challan in eGRAS
 Forest Department: Online booking of tourist places and gypsy for Ranthambore, Sariska & Keoladeo National Parks
 Home Department: Application submission for bonade
 Industries Department: Online ling of EM1 and EM2 forms
 Jaipur Development Authority: Online submission of application form & deposition of fees for various schemes
 Labour Department: Application form submission & fee deposition for various schemes
Medical & Health Sciences Directorate: Food Business Operator (FBO) registration & licensing services like FSSAI License.
MNREGA Services: New registration of a household – issuance of job card, etc.
 Municipal Corporation: Payment of various dues/fee
 Panchayati Raj: Application submission & issuance of digitally signed "Lease of Residential Land"
 Pension Department: Medical bill reimbursement for pensioners through eTreasury, medical bill reimbursement limit extension
PHED: Utility bill submission, the application form for new water connection
 Police Department: Submission of online application for tenant/servant/character certicate verication (CCV). Issuance of digitally signed character certicate. Issuance of police clearance certicate.
 Rajasthan Housing Board: Collection of dues and monthly installment
 Rajasthan State Pollution Control Board: Registration, eForm lling, and collection of payment
Revenue Department: Application submission for bonade, caste certicate, minority certicate, solvency certicate, application form lling & fees deposition for mutation, sima gyan, consent for land division. Fee deposition for jama bandi.
 RSRTC: Online booking of eTicketing for passenger/luxury buses, etc.
 RTI Services: Online submission & deposition of fees for RTI services
 SMS Hospital, Jaipur: OPD registrations, renewal of OPD registration and providing printout of investigation reports to the patients
 Transport Department: Deposition of fees for learner's driving licence, new driving licence, renewal of DL, duplicate licence, additional of new category, international driving permit and vehicle registration
 Application form lling for various schemes of Employment (Unemployment Allowances etc.), Rural Development (Nirmal Bharat Abhyan, etc.) and Tribal Area Development (Free Scooty distribution to tribal girls, etc.)
Examination/admission/afliation fee collection for University of Rajasthan, Rajasthan University of Health Services, Maharishi Dayanand Saraswati University, Maharaja Ganga Singh University, University of Kota, Vardhman Mahaveer Open University, Board of Secondary Education Rajasthan (BSER), etc. Fee collection for various exams such as RPET, RPMT, RMCAAT, CMAT, PTET, PIMMAT, ULET, etc. Online lling of application and fee for answer booklet copies to be shown to candidates (BSER) and scrutiny (re-totaling).
 Fee collection for various recruitment exams of RPSC, all Government and PSU recruitments
 Online PAN Card applications
 Various Aadhaar services such as updating, correction, status request, seeding of UID/EID/bank account details in Aadhaar application
 Department of Food, Civil Supplies & Consumer Affairs: Application for new/duplicate ration card, issuance of ration coupons, coupon encashment
 Jaipur Metro Rail Corporation Ltd. (JMRC): Selling of Smart Cards
 Local Self Government: Online submission & deposition of fees for RTI services
Mines & Geology: Collection of various Revenue & Non-Revenue fee
Rajasthan Renewable Energy Corporation Ltd. (RRECL): Application form lling for "Energy Renewable Scheme – Solar/Wind/Bio-Mass" in various stages
 Registration & Stamps: Deposition of "Registration & Other Fees" except Stamp Duty
Urban Improvement Trust, Kota: Application for "one-time lease fee certicate" and "NOC for a loan from the bank"
Various Bhamashah services such as Bhamashah Enrollment, updating, correction, status request, seeding of bank account/NFSA (National Food Security Act) No. details in Bhamashah application
Department of Social Justice & Empowerment: Application for Palanhar Scheme, application for Arundhati Scheme, the annual verication of Social Security Pensioners
In addition to this, emitra has kiosks for being a suvidha provider for GST, for services like GST enrolment
B2C Services
 Bill payment of Airtel, Idea, Vodafone, MTS
 Insurance services of ICICI Prudential Life Insurance
 LIC premium payment
 Prepaid mobile recharges (BSNL, Vodafone, Airtel, Idea, Reliance, TATA, etc.)
 DTH Recharges (Tata Sky, Big TV, Dish TV, Aksh IPTV, etc.)
 CSC-SPV B2C Portal, Oxigen B2C Portal
Amazon as online market place
Ask me doctor services
Distribution of LED Bulbs Energy Efciency Services Limited
Oxigen: Wallet creation & top up
 Paytm: Wallet creation & top up
You can look over the comprehensive and full list of Services with their rates Here
eMitra Online Registration
Step 1: Head on over to the registration page https://sso.rajasthan.gov.in/register
Step 2: Select your entity type Citizen, Government Employee, or a Business
Step 3: Enter relevant details or login via their Social Media options like Google Plus and Facebook
Emitra App
The government of Rajasthan is very quick to adapt to the mobile world and has made the governance mobile. They introduced the emitra mobile App for Android. Where you can pay your utility bills and many more. It really makes the whole digital experience wholesome. They are also quick to respond to grievances with the mobile app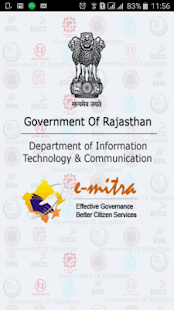 Outcomes Achieved by eMitra
Since the implementation of the online portal, kiosks and service centers the governance in Rajasthan has been made more streamlined and efficient. Here are some of the outcomes the portal was able to achieve in the 15 years of existence up until now.
Footfall reduction in Government with service delivery closer -to home
Delivery of Services on a FIFO (first-in-first-out ) basis
Efficient Recordkeeping/online document management system
Stricter timelines and timeline-bound delivery of essential citizen services
Transparency in online systems leading to better visibility
Anytime Anywhere service reducing the cost of travel and saving time
About LegalRaasta: