Introduction to CSR applicability
The csr applicability can be described under the Companies Act 2013. The rules directed under an order that several categories of companies must comply with the CSR requirements under the Companies Act 2013. These provisions usually apply to big companies. Which are authorised plus obliged to initiate and fund programs to boost awareness of relevant issues, boost living standards and environmental standards and serve society as a unity? For company registration log into our website legalraatsa These kinds of companies are CSR applicability :
The companies with a net worth equivalent to or higher than Rs. 500 crores.
Companies with turnover equivalent to or higher than Rs. 1000 crores.
companies with a net profit equivalent to or higher than Rs. 5 crores while any financial year.
Any company that comes within 1 or more of the above kinds, including holding or subsidiary companies and foreign companies with a branch office or project office in India. They need to establish a corporate social responsibility committee and volunteer socially-beneficial activities, as described in the Companies Act 2013. The Act further directs norms concerning to a CSR policy.
Note: CSR Applicability is essential for companies satisfying the above criteria. On the other hand, Section 8 Company registration are included individually for not-for-profit views.
Section 8 Company allows the government to designate any association with charitable objectives
WHAT IS CSR?
The term CSR applicability is called as Corporate Social Responsibility that can be applied to as a corporate initiative to impose and take responsibility for the company's impacts on the environment and influence on social welfare. The term usually refers to companies forces that go exceeding what may be demanded by regulators or environmental protection groups.
Corporate social responsibility may also be introduced as corporate citizenship and can include acquiring short-term costs that do not present an important financial advantage to the
the company, but rather develop positive social and environmental transformation.
CSR can also be called as :
Corporate Citizenship.
Responsible business.
Corporate conscience.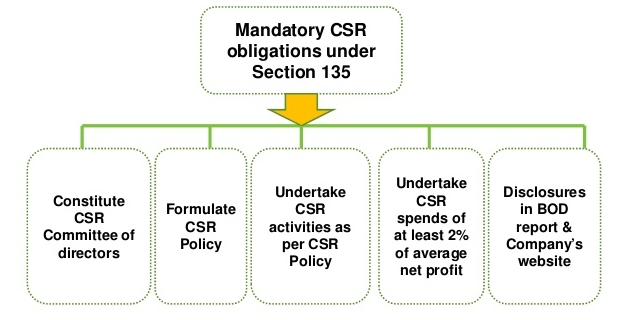 CSR Committee and Policy
All qualifying company needed to have a CSR committee are obligated to spend at least 2% of its average net profit for the straight heading 3 fiscal years on CSR activities.
Additionally, the qualifying company shall be required to comprise a CSR committee of the Board of Directors including 3 or more directors.
The CSR Committee will make and suggest to the Board. A policy which will define the activities to be engaged with advocate the value of the expenditure to be acquired on the activities involved and observe the CSR Policy linked to the company.
The Board will hold into account the suggestions given by the CSR Committee and assist the CSR Policy of the company.
Reason For Introduction of CSR for Companies
Global scale environment, social, cultural and economic concerns have now grown part of our everyday life. Increasing profits is no longer the individual business performance indicator for the corporate. They have to perform the task of efficient corporate citizens as they owe a responsibility towards society. The company registration is a mandatory process for CSR introduction
We live an active life in a world that is developing more and more complex. The concept of CSR proposed through the Companies Act, 2013 puts numerous responsibility on companies in India to set out clear CSR structure. The Act includes the CSR in Indian corporate requiring companies to form a CSR policy and spend on social advancing activities. The Company Secretaries are supposed to be understood about the statutory and technical conditions with regard to CSR in order to lead the management and Board.
Role of Board of Directors in CSR
The board of directors of a company plays a vital role in the CSR activities of the company.
Permission of the CSR policy.
Assuring its implementation.
Assuring that statutorily defined amount is spent by the company with a source to CSR activities.
Declaration of the contents of CSR policies associated with its report.
Activities allowed under CSR
The following activities can be implemented by a company to achieve its CSR responsibilities:
Promoting education
Diminishing child mortality
Assuring environmental sustainability
Socio-economic development for Governments
Enhancing maternal health
Improving gender equality situations and empowering women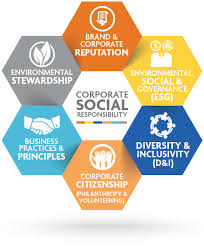 Why Business require to follow CSR compliance
All the stakeholders of business including
-investors
-managers
-employees
-consumers
they have started to realise how the economic growth of a business or industry is associated with environmental and social well-being. Although it is just a spontaneous activity by business organizations, it has virtually converted an essential part of business activities as engaging social activities can indirectly serve the organization for the long. Because when a business works in a socially, economically and environmentally effective and simple manner, it serves the organization benefit in particular through social recognition & shared preference.
CSR Applicability finds importance as it authorises companies to join in projects or programs linked to activities to social welfare and growth recorded under the terms of Companies Act, 2013. There is a component of adaptability in company activities by enabling them to choose their favoured CSR engagements that are in accordance with the overall CSR policy of the company.
Log into our website Legalraasta. For more services like company registration, Partnership Registration and Section 8 Company registration, you can contact our expert team. Simply call on +91-8750008585 or you can simply mail on [email protected].Now you can download our app also simply just click on the link given below and without a doubt download.
https://play.google.com/store/apps/details?id=com.legalraasta.www.legalraasta_gst.
We will assure to serve best services!
Related Articles

Section 8: Can Make A Difference?

Sections Notified Under Companies Amendment Act 2017