NGO Registration in India
NGO Registration is mandatory for the organization which is planning to work for the welfare of society. An NGO is a non-government organization with a charitable purpose, for the progress of society worldwide. It can be started as a Trust, a Society or Section 8 Company (a Non-Profit Company ) depending on the project you want to undertake. NGO's could have a broad variety of interests of society in mind.
This could add Environmental causes, human and/or animal rights, improving the health and welfare of children, expansion work and could even involve raising awareness regarding some causes or activities of social importance.
In India, NGO is a term for all non-profit organizations involving Trust, Society and Section 8 Company. Other titles for such not-for-profit organizations are "Sangathan", "Sangh", "Sangam". Income tax exemption is open for all non-profit NGOs. These are sometimes mixed with non-profitable companies, which refers to a regular business is not making a profit.
Forms in NGO Registration
Form INC 1: Name registration of NGO
Form INC 12: Form should be submitted to acquire a license to run an NGO
Form INC 13: Memorandum of Association
Form INC-15: It is a declaration by each subscriber to the Memorandum
Form INC 7: Application for Incorporation of the NGO.
FORM INC 22: Details of the Registered Address
Form DIR 12: To appoint directors of the NGO
DIR 2: Consent of Directors
DIR 3: Application to ROC to get DIN
DIR 12:Appointment of Directors
Laws Governing NGO Registration
The NGO registration procedure in India comes under the jurisdiction of the laws established under the procedure to register NGOs in India. The NGO registration system in India is regulated as follows:
Indian Trusts Act, 1882 for Trust Registration
Societies Registration Act, 1860 for Society Registration
Companies Act, 2013 for Section 8 Company Registration
Types of Registration of NGO in India
Trust
The first way to register an NGO is Trust or more commonly called Charitable trust. Trust is a legal entity formed by the "trustor" or "settlor" who shifts the assets to the second party or "trustee" for the profit of the third party or "beneficiary". Trusts are created to assist and encourage the seized sections of society. Any group of individuals can register a trust and in India, as such there are no particular laws to administer the public trust, though, some states like Maharashtra and Tamil Nadu have their own Public Trust Act.
Societies
A society is an entity that can be formed by a group of individuals united in their cause for developing science, arts, literature, social welfare, and useful information. Also, societies work for building military orphan funds, maintaining public museums and libraries.
Societies are administered by the Societies Registration Act, 1860. They must be listed with the respective state Registrar of Societies to be eligible for tax exemption.
Section 8 Companies
A Section 8 company is related to trust and society. The purposes of Section 8 Companies are to better arts, science, commerce, sports, social welfare, religion, charity, and environmental protection. They are registered under the Companies Act, 2013 for a charitable purpose. They have bigger credibility amongst government bodies, donors and other stakeholders.
Procedure for NGO Trust registration
 1. Complete our NGO Registration Form. You are expected to fill your details in our simple online questionnaire.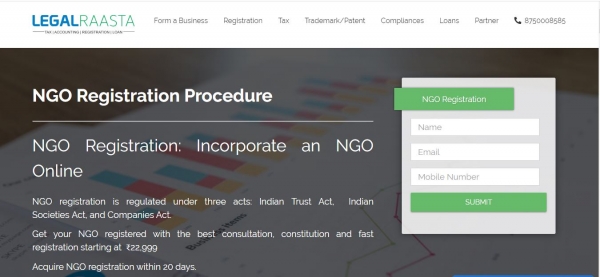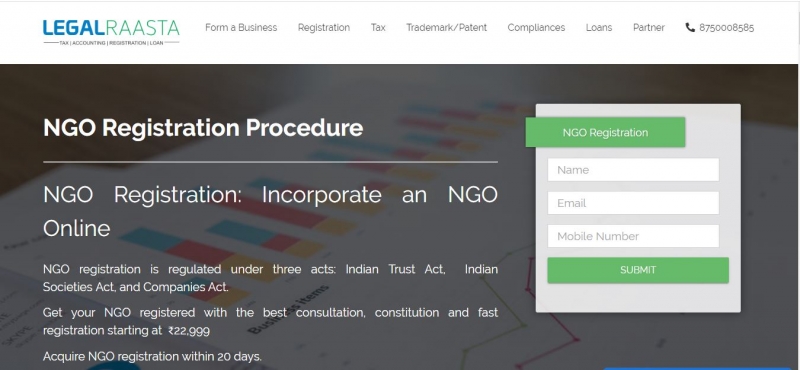 2. Get the Prerequisites details and complete the documentation.
 3. Compile a trust deed on the basis of the details provided by you for Trust Deed registration, a Trust deed will be compiled.
 4. Trust Deed Registration, Society Registration or section 8 company Depends on which type you are applying for. The trust deed so compiled will be submitted to the relevant local registrar for registration
5. Your Trust NGO is now registered. Once your Trust NGO is registered, we shall send you Trust Deed via courier.
Benefits of register an NGO in India
A registered NGO gets the legal status and becomes responsible for the funds received. For instance, when an individual donates funds to a charitable trust, it is taken under the name of the organization and used for the trust's activities. In an unregistered firm, the assets can be taken under anyone's name and maybe practiced for their own profit.
An organization that is registered as an NGO strengthens the ethical, social and legal standards of our society.
The basic necessity for running an NGO is to have a bank account under its name. To open an account, it is compulsory to be registered as a Trust, Society or Section 8 Company.
The registration of an NGO is required to seek tax exemption from the Income Tax Authority.
Documents Required for NGO Registration
Here we list down the mandatory documents required for registration of an NGO
Copy of MOA & R.R of the Society in duplicate.
Copies of Special Resolution in duplicate (General Body).
Copies of Notice in duplicate.
A sworn affidavit by President or sectary
Declaration by President of Society
Copies of Minute of Society Governing Body).
List of Governing Body. f. Copy of Comparative List of Amendment.
Copy of Election proceedings with Notice. h. Proof of Notice received.
Copies of application form for new members.
Copies of resignation letter. k. Annual List of Governing Body (Sec.4).
N.O.C. from the owner of the new registered office of the Society.
Ownership proof of the new registered office of the Society. n. 'No Dispute' affidavit from President.
Address Proof of Registered office and No-Objection Certificate (NOC) from the landlord
Difference Between Trust, Society and Section 8 company
| Basis | TRUST | SOCIETY | SEC – 8 COMPANY |
| --- | --- | --- | --- |
| Governed By | Trust Act of every state | Societies Registration Act i.e. State Law | Companies Act, 2013 |
| Members |  3-21 members are eligible for trust | Minimum 7 members & Maximum is unlimited | Minimum of 2 Directors/Shareholders |
| Jurisdiction | Where the registered office of the Trust is located. Before the Sub – Registrar or the District Registrar in the particular area or the Charity Commissioner. | The registered office of the Society is located. Before the District Registrar in the particular area or the Charity Commissioner. | Online Registration is available. |
| Important Document | Trust Deed | Memorandum of Association (MOA), By-Laws, Forms | MoA and AoA |
| Board | Founder or Author of the Trust, Managing Trustees | Executive Committee (President, Secretary, Vice President, Treasurer), General Body i.e. All members | Directors |
| Annual Compliance | There is no annual filing but the board of trustees must have the books and accounts private. | Societies need to file yearly, with the Registrar of Societies, a list of the names, addresses, and occupations of their managing committee members. | There is a necessity of annual compliance by the filing of annual accounts and the return of the company with the RoC. |
Frequently Asked Questions 
1)What is the full form of NGO?
The full form of NGO is Non-Governmental Organization.
2)What is the NGO Registration?
Register an NGO means any non-profit organization that serves for a charitable cause. In India, an NGO can be set up as a Trust, a Society, or a Section 8 Company this NGO registration.
3)What to register – Trust, Society or Section 8 Company?
It's all depending on the type of work you want to do, it is best to apply accordingly. For making an NGO registration log into our portal Legalraasta. Our expert team will guide you.
4)How to register NGOs?
Decide the purpose and mission of your NGO
Set up the board of Directors/members
Select the name of your NGO
Memorandum – Articles of Incorporation/ Articles of Association
Get your NGO registered
Start raising funds
Get connected
5)How to open NGO?
Besides having the enthusiasm to work for the welfare of society, legally, there are some procedures to follow, these are:-
Firstly, lay down the purpose of your NGO, this means what cause you would like to take up.
Form a regulatory body, this body ensures the smooth running of the NGO.
Finally, register your NGO with the government authorities. This step can be long and severe. But, for a seamless experience, you can contact Legalraasta.
Our experts will guide you at every stage of the registration process.
6)Why register an NGO?
There are many reasons why it is more satisfying to register an NGO. One of the most important ones in funds. As an NGO you will get funds from different quarters. The money you get from donors has to be put in a bank. To open a bank account under a company or an NGO, you require to have some documents. The registration of an NGO gives you documents to show that funds are taken in the NGO's name.
7)Can any government employees or officer be a member of NGO?
Yes, Government employees or officers can be part of NGOs gave the NGO is not anti-government. There are some rules too that these people have to follow, one of them is to make sure that the NGO is not profit-making.
8) What are the documents required for NGO Registration?
A requesting letter for registration signed by founding members stating the purpose of formation
Certified copy of MoA
Copy of the rules and regulations members will abide by
Name, Address, Occupation of all members of society with signatures
Minutes of meeting
Declaration by President of Society
Sworn affidavit
Address Proof
9) Which are the laws applicable to an NGO?
NGOs can be registered in India under any of the following laws:
a. Trust under Indian Trusts Act, 1882
b. Society under Societies Registration Act 1860
c. Section 8 Company under Companies Act, 2013
For NGO Registration– in Trust, Society and Section 8 company. Log into our website LegalRaasta.