What is Form 10C?
The form 10C is a form that needs to be filled and presented when claiming advantages under the EPS. Every month a part of the overall provident fund benefactions is segmented into the EPS. This part of the rewards from your provident fund account can be withdrawn applying the Form 10C. For EPF Registration you can log in to the wwebsiteLegalRaasta.
Download Form 10C 
You can download the  Form 10C by clicking on this link –
 https://www.legalraasta.com/blog/wp-content/uploads/2019/04/Form10C.pdf
Eligibility to apply for Form 10C
All members of the EPS scheme satisfying the below-mentioned rules can appeal:
A person who has left the job before completion of 10 years. The member who has accomplished 58 years of age before finishing 10 years of service are eligible to apply.
A member who has completed 10 years in service and not accomplished 50 years of age. Also, a member who is within the age of 50 to 58 years and is resistant to resolve with a decreased pension.
Family/nominee of a member who died before finishing 10 years of service. Even, he/she was more than 58 years at the time of death.
Information one need to fill in a Form 10C
Nominee's/Member's Name
Date of Birth (DOB) of member
Father's Name
Husband's Name (in case women is married)
Name and Address of the company in which the member was the last working.
Company Details like Office code, company code no. and account number and statements
Date of Joining the Company
Reason for leaving duty
Date of Leaving
Full Address
Are you ready to acquire Scheme Certificate in instead of withdrawal privileges -Yes/No
Details of Nominees and Family (Spouse, kids or Nominee) – Name, date of birth (DOB), the name of the guardian (for minors) and connection with the member.
Information about the member and nominee.In circumstances of the death of the member after accomplishing the age of 58 years without applying for the claim.
Payment mode – cheque , savings account or postal order.
Whether applying to receive a pension under EPS, 1995- Yes/No.
Sign of the employer and employee with the seal of the organization.
Advance Stamp Receipt means the compensation receipt for pension in the savings account.
Scheme Certificate -to be marked by Provident Fund Commissioner's office.

An example to make to understand what is the content in the form 10c.
When to apply Form 10C?
This form is to be practised to claim all of the following:
The Employer share refund.
Certificate Scheme for member recognition
The benefit of Withdrawal
These profits can be defined as:
Scheme Certificate: This document can be claimed when the overall time of service of an employee is higher than 9.5 years. He/she hasn't attained 50 years of age as of application date. The scheme document provides a member to lead ahead his initial service time. When he/she rejoins as an employee in the different or same organization. A member can withdraw their Provident Fund collections while availing certificate schemes.
Withdrawal Advantage: This certificate is allotted to candidates who have been in service/job for less than 9.5 years.He/she hasn't reached the age of 50 years as of application date. The scheme provides for pension fund amount back as the employees aren't yet authorised for a pension. Withdrawal advantage is not relevant when the membership is less than 180 days excluding the non-contributing time.
Types of Claim relating to Form 10C
The following claims can be made relating Provident Fund form 10C.
A member who has left the job before finishing of 10 years service can go for Form 10C and appeal to get the value via withdrawal profit.
A member, who has finished 10 years service on the date of leaving the job and has not achieved the age of 50 years. On the date of filing, this application can do the form to receive the certificate scheme.
A member who has achieved the age of 50 years or more. He/she can claim form 10c. But age less than 58 years and not ready for a decreased pension can apply the form to get Scheme Certificate. In case he/she is getting a decrease pension, he/she can do apply Form 10D.
Subsequently, Form 10C can be practised by family members in case of death. Member who died after accomplishing 58 years age but before finishing 10 years of service.
A member who has left the job before finishing of 10 years service who is not qualified to get Pension, has to appeal in Form 10C to get the value towards withdrawal profit.
The process of filling Form 10C Online
A member can withdraw the pension cost when he/she shifts a job at a limited time, later 6 months of constant duty. Before finishing 10 years of the duty period. In case member needs to withdraw the pension cost alternately of shifting it to the fresh account, grasp the steps stated below :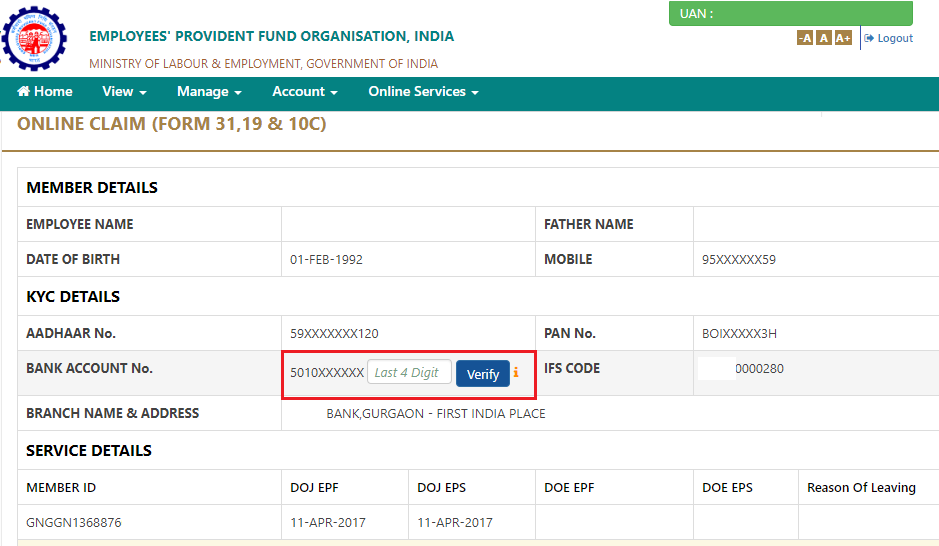 Mention end four numbers of your bank account number. Then tap on verify.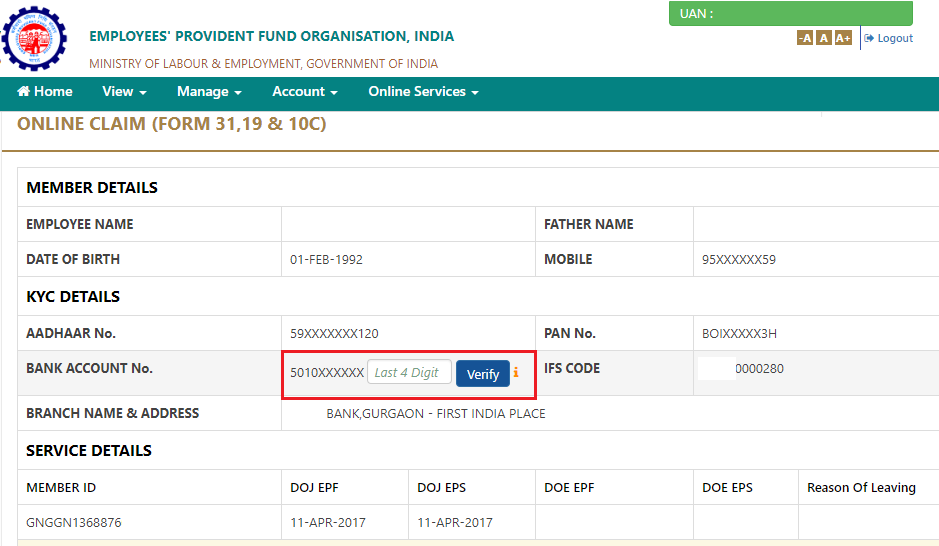 Signify and sign the certificate of the undertaking. Then tap on Yes to accept to the terms and conditions mentioned in the form.

In the I want to apply for a section- Select the option of Only Pension Withdrawal Form 10C.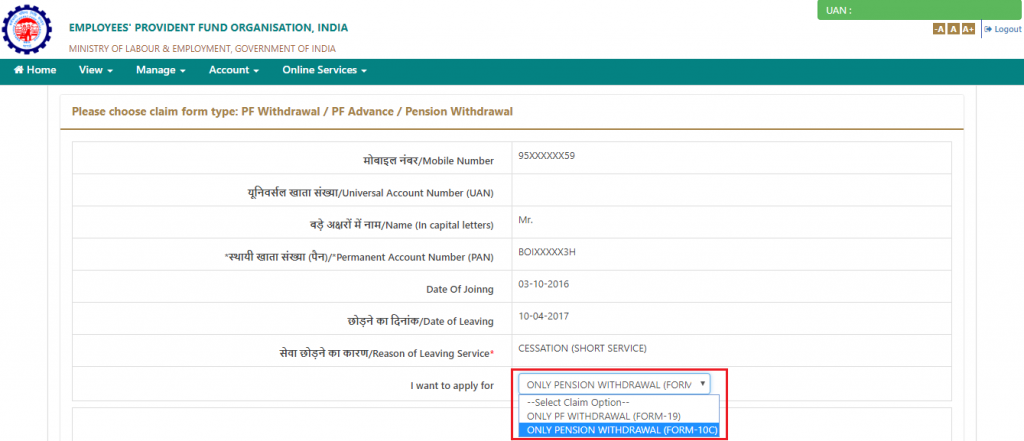 Mention your whole address. Tick the disclaimer and tap on the Get Aadhaar OTP button.

An OTP will be transferred to your mobile number enrolled with Aadhaar. Mention this OTP and tap on validating OTP. Then Submit Claim Form.
Member's pension claim form will be proposed and the fund will be paid in your bank account after confirmation by EPFO.
During employment, a worker has a pension fund for settling the age of retirement. In case of a shift of employment, the employee can take ahead the same account for a pension. Still, in case the employee does not get a fresh job, the employee may appeal for funds withdrawal. Hence to avail the advantages but preserving the membership with EPF (Employee Pension Fund ) the employee registers a Form 10C.
For registration of PF accounts, you can call our experts and the team at website LegalRaasta. You can receive all guidance on EPF Registration and  EFI Regisration .You can give us a call at 8750008585 and be stress-free and send your query on Email: [email protected].You can download LegalRaasta app for any query connected with PF Registration.
Related Articles

Procedure to Register for Employee Provident Fund

PF Withdrawal Form: Claiming PF amount