EPF (Employee Provident Fund) basically acts as a saving a tool for the employees. In this, both employee and the employer contribute an equal amount towards savings that can be availed at the time of retirement or after switching jobs. There are several methods with the help of which you can check your EPF balance via SMS, by giving a missed call, by EPFO App and the EPFO portal. By accessing the EPF balance, you can easily:
Plan your expenses well
Avail a loan against your EPF balance
Check the status of your PF balance
Given below is the figure portraying the methods to check the EPF balance and statements:
Let us discuss these methods one by one:
How to check PF balance by using EPFO Portal
The first and foremost thing to be remembered is UAN (Universal Account Number). The employer must activate his UAN. It is obviously unique for all the employees enrolled under the EPF scheme. UAN number is generally allocated by the Employee Provident Fund Organisation (EPFO). It is mandatory for all the employees to have only one UAN during their working life irrespective of the companies they change.
For additional details, read more on our blog about UAN portal
As soon as the UAN activation is done, follow the below step:
STEP 1.
Visit the EPFO Portal. Go to the tab "Our services" and select the option "For employees" from the drop-down menu.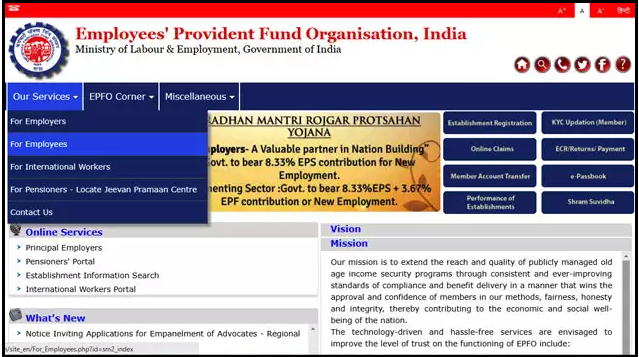 STEP 2.
Then, click the given option 'Member passbook' under the option "Services."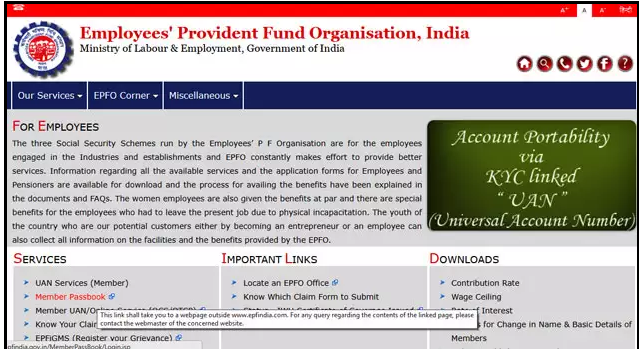 STEP 3.
Afterward, the login page will appear. Now, you can enter your UAN number and password here after it has been activated.

Here, you can access your EPF account.
How to check PF Balance and statements by sending an SMS
First of all, it is essential to integrate your UAN number with your KYC details, such as Aadhaar or PAN or bank account details. Then you can be eligible to access your EPF balance by SMS process.
You can follow the given steps only when you are done with the integration of the KYC procedure.
STEP 1.
Just send an SMS to the mobile number 7738299899.
STEP 2.
Now, send a message as EPFOHO UAN ENG.
For this, you need to set your preferred language for communication. This can easily be done by using the first three characters of your preferred language. If you are willing to receive updates in English, then use the first three characters of the word English like EPFOHO UAN ENG— where ENG denotes English.
In case, you want to receive the message updates in Marathi, then types in EPFOHO UAN MAR— where MAR denotes Marathi. The language facility is available in English, Hindi, Gujarati, Punjabi, Marathi, Kannada, Telugu, Tamil, Malayalam, and Bengali.
How to check PF Balance and statements by giving a Missed call
You can also give a missed call to the authorized phone from your registered mobile number. But this service is only available upon the integration of your UAN with your KYC details. You can take help from your employer in case you find any difficulty.  As soon as the UAN is integrated with your KYC details, follow the steps mentioned below:
STEP 1.
Just give a missed call to 011-22901406 from your registered mobile number.
STEP 2.
After that, you will receive an SMS providing you with PF details.
How to check PF balance and statements by using EPFO App
Same as above, the employer must have an active UAN number. You can check your PF balance and statements by downloading the "m-sewa app of EPFO" from the Google Play Store. All you need to follow the following steps:
STEP 1.
As soon as the app downloaded, click on "Member" and then go to "Balance/Passbook".
STEP 2.
Then, enter your UAN and registered mobile number. Your mobile number will be verified against your UAN. Once all the details check out, you can view your updated EPF balance details. If any mismatch happens, it will display an error.
The government has recently launched an app known as "UMANG". It helps in merging different government services like Aadhaar, gas booking, crop insurance, NPS, and EPF. Besides, you can also use this app to check EPF details. After installation, you can find the EPFO option from the app's homepage under the head "Employee Centric Services" option and access your EPF account details. Download the UMANG App from the Google Play store.
For further more details regarding EPF registration, ESI registration, the procedure for EPF registration or more, you can visit our website: LegalRaasta and follow our blog. Our experts will help you in the registration process and other business-related issues. Hurry up! Give us a call at 8750008585 and feel free to send your query on Email: [email protected].
Related Articles:

How to check the online PF claim status?

UAN Portal Login | How to change mobile number in UAN Portal |