The famous shopping websites Jabong and Myntra have created a buzz in the Indian e-commerce site from where you can buy various branded products. These websites provide products for men, women, and children as well. Not only this rather Jabong is a part of the Rocket Internet group that builds and invests in internet companies that take proven online business models to new, fast-growing markets. Rocket Internet is an e-commerce powerhouse with a presence in over 110 countries on six continents. In this article, we will enlighten you the process of becoming a Jabong seller online.
In 2013, Jabong was founded by the Rocket Internet group as India's go-to online shop for shoes, fashion, and beauty. It is now the biggest online fashion retailer in India as it offers a broad selection of international and local brands at competitive prices and delivery all over the country. More than thousands of footwear and clothing brands are available on the website, with the assortment of items constantly being updated to suit customers' needs and current trends. Any business can register itself as a seller on Jabong website and sell their products.
In July 2016 Flipkart acquired Jabong through its unit Myntra for about $70 million. Jabong acquisition is a natural step in our journey to be India's largest fashion platform. You can see significant synergies between the two companies especially on brand relationships and consumer experience. Now, the talented Jabong team started working with Myntra to shape the future of fashion and lifestyle e-commerce in India.
Hence, to become a Jabong seller you have to now be the seller on Myntra as it acquired Jabong.
How to become a seller on Jabong?
Following are the procedure of becoming a seller on Jabong:
Fill the "sell with us" form
Go to the website: https://partnerportal.myntra.com/# to sell on Jabong and Myntra. There you will see a form "Sell with us". By filing this form you will be accepted by Myntra and Jabong then you can become a seller on Myntra.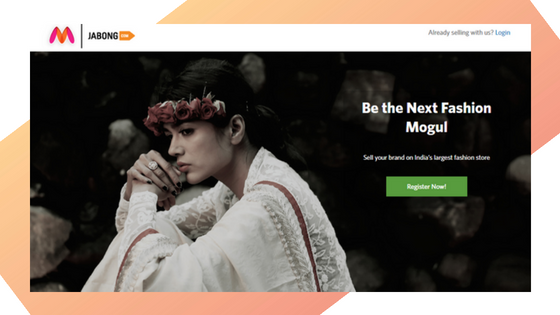 Legal Registration for your business
Myntra and Jabong offer only a business entity, not an individual to sell on their website. So, you need to do a legal registration for your business first.
Following are the four options to register your business as Legal Identity:
1. Private Limited Company
2. Limited Liability Partnership
3. Sole Proprietorship Firm
4. Partnership Firm
Therefore, one of these four options, you must have anyone registration for your business. When your business gets the registration, then arrange the following documents.
Legal Documents to become a seller on Jabong and Myntra
Following are the documents:
GSTIN Number of your business
PAN Card details of the business entity
Current account with Bank's Name and Branch
Name of account holder
Account number and the IFSC Code
Once the registration for becoming a seller on Jabong & Myntra gets approval, you will be ready to roll out your products on Myntra.
List your products and start selling
Following are the steps to follow:
After the above steps, you can list your products on Myntra and Jabong. But while you start the listing, you can set the selling price, discounts or shipping cost according to your convenience.
Finally, you can start selling your products on Myntra and Jabong. Once your store goes live, the customers will be to search your products on the Myntra Dashboard.
Myntra and Jabong web or app is a very user-friendly platform which makes it easy to handle your products. The interface of Myntra and Jabong is easy to handle that any business entity can use specialists to increase its brand value.

 Receiving Orders and Payments 
Following steps needs to be followed:
You will receive orders from customers when your store goes live.
When your store gets an order, your dashboard will be notified every time.
Myntra and Jabong will pack the consignment after receiving the order.
Myntra and Jabong will automatically generate an invoice copy.
Myntra courier partner will deliver the product to the customer.
Basically, Myntra & Jabong take 15 days for the first time to settle your payment. After that, it transfers your payment into your registered bank account after deductions from Myntra's commission and other service charges.
Benefits of selling your products on Myntra and Jabong
As Myntra and Jabong have user-friendly interface and huge traffic growth, so it is considered as the most popular online store across India and this will surely push you to sell on this website. Besides, following are some reasons why you should choose to sell on Jabong and to become a seller on Myntra.
In India, Jabong and Myntra aim to help its customers look good every day, every occasion.
There is an intuitive interface to manage your store, cataloging support, an end to end supply chain management. So, you can focus on your brand and let Myntra & Jabong take care of the rest.
Learn from its Fashion Experts
The dedicated account manager, access to the latest industry trends and compelling content for your brand.
Grow your business with Marketing Expertise
There is a multi-channel promotion campaign, social engagement, and in-depth analytics to help you understand your consumer better.
How does the selling of products work?
It has been never so easy to sell online. But with Myntra and Jabong it is very easy and reliable. Following steps are being concluded:
1. LIST: Myntra's onboard specialists always here to work with you and to take your brand to live as soon as possible.
2. SELL: There is a facility where you can update your inventory and start receiving orders from Myntra's large customer base.
3. SUPPLY: All you need to do is keep your products ready. It is a job of Myntra to pick, pack and ship it for you to the customer.
4. EARN: Myntra's regular settlements and working capital support to grow your brand rapidly.
For further more information you can contact us at 8750008585 and send your query regarding business on Email: [email protected]. You can also visit our website to know about our services: LegalRaasta. Our expert's team will provide you the guidelines to start up your new business whether it is Private limited company or LLP Registration.
Related Article:

Snapdeal Seller Registration: How to sell on Snapdeal?