Along with the proper infrastructure and protocol of your business, there is one thing also which is equally important in the current scenario if you want to ramp up your business to the zenith. So, to enhance your sales of product and services in Pune through specific certification apply ISO Certification Pune with Legal Raasta Team. Here, in this article, we will let you know about the 5 steps that need to be fulfilled.
Read more about the importance of ISO 9001 certification in India.
ISO certification Pune Procedure
Hurry up! Get Your ISO online registered with the help of Legal Raasta in Pune:
Step 1: Filling the ISO Registration Application Form
Firstly, go to our website and click the ISO registration option. Then click on "ISO registration" and let the process begin. Fill the ISO registration form to get started as well as fill in the text boxes with your contact details and click on "Proceed."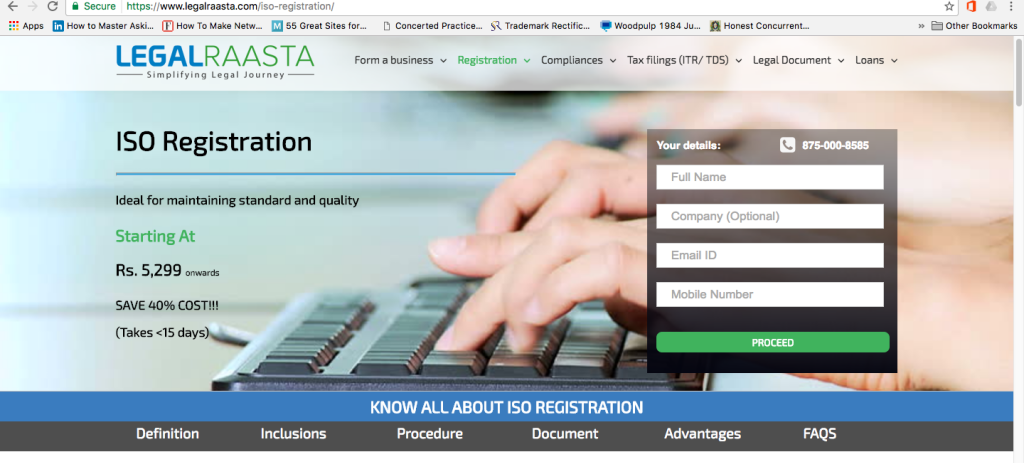 Step 2: Filling in the Company Details
You will be directly approached to the "Company details" page. You need to fill the name of your company here along with the address. This address should be the registered office of your company. As soon as you have selected the states like Maharashtra (Pune), type the name of the authorized contact person and select the nature of your business from a drop-down box. The nature of your business could be any of the given categories:
Accommodations
Construction
Entertainment
Food Service
Manufacturing
Technology
Wholesale
Other
You have an option also whether you want any consultation or not.
Afterward, click on "next" and you will be directed to the ISO selection page.
Step 3: ISO Selection
ISO registration is that significant that it can be acquired for several different industries such as food safety, information technology management, agriculture, environment etc. The most common and popular worldwide ISO standard is ISO 9001( another name quality management).
Here, you can make a choice between two certification authorities and the particular ISO registration that you require. But the choice of certification authorities is between WRG and JAS-ANZ accredited certification bodies.
WRG
ISO registration is not provided by an International organization for standardization itself. It only develops the standards that other bodies must conform to. Moreover, it has its member many national standards authorities which in turn accredit the bodies that further provide ISO certification Pune. WRG is such a body that provides ISO registration. It refers to the world registrar group certification company having extensive experience in various industries and in-depth knowledge of the process involved. WRG is accredited by the American National Standards Institute which is itself a member of ISO. In a nutshell, WRG has requisite experience and knowledge to certify sellers of goods and services.
JAS-ANZ
Whereas JAS-ANZ is not an ISO certification body. However, it is a system of joint accreditation of Australia and New Zealand.
Unlike WRG, JAS-ANZ isn't an ISO registration body, rather it is a system of joint accreditation of Australia and New Zealand. JAS-ANZ, separate standards developing authority, is different from ISO and doesn't certify or inspect organizations, products or people. Instead, it accredits bodies to provide JAS-ANZ certification. It develops the assessment criteria that such bodies, providing JAS-ANZ certification to sellers of goods and services, must meet to become accredited under these themes:
health and human services
environment.
product certification
food and biological systems
business and innovation
Not only this rather JAS-ANZ has signed the International Accreditation Forum Multilateral Agreement to harmonize standards and create an equivalence in the differing standards around the world. In the case of ISO, it depends on the quality, reputation, and standing of the registration while in case of JAS-ANZ, the price of ISO registration or JAS-ANZ certification would differ.
LegalRaasta would provide you with WRG certified ISO registration and JAS-ANZ certification at the following prices: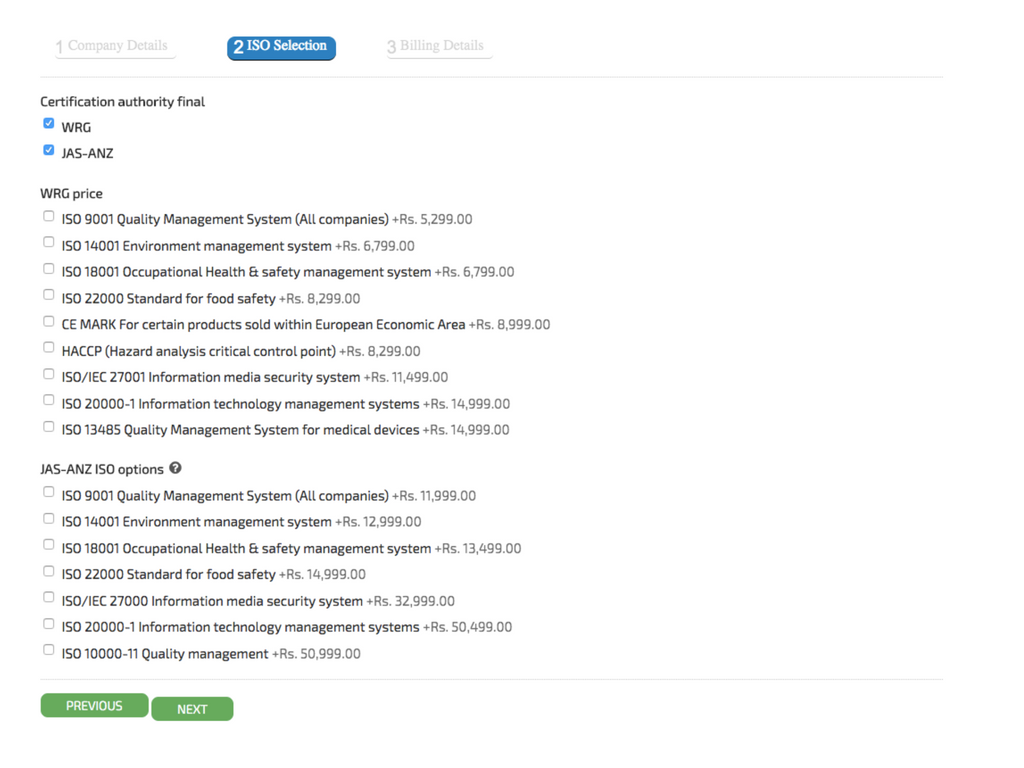 It's up to your choice whether you choose any ISO registration or JAS-ANZ certification, you can also select multiple registrations or certifications at the same time. Once you are done with the selection, you will be directed to the Billing details page.
Step 4: Billing Details
Here, you have to provide your billing details. That is that reason why your billing address might be different from your registration details.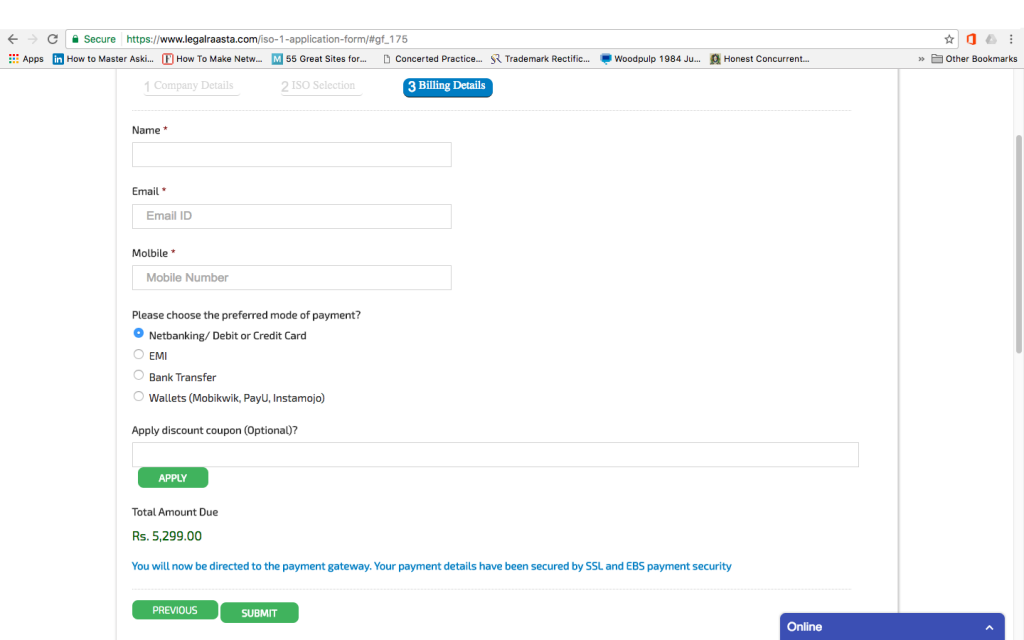 And we provide a variety of payment options. You have a choice to select from net banking/debit or credit card/EMI/bank transfer (IMPS, RTGS, NEFT), and your choice of mobile wallet (Mobikwik, PayU, Instamojo). In addition to this, you can also pay from your Paytm wallet by speaking to our sales executives on the phone. With all these facilities, you can also apply your valid discount coupon only if there is any. Afterward, click on submit and you will be redirected to the appropriate payment gateway for secure payment.
Step 5: Work Completion
Once you are done with the application form, just select the relevant standard and paid the requisite fees then your registration or JAS-ANZ certification process will start. All the required document will be created and we will file them with registrar ISO registrar or JAS-ANZ certification body on your behalf. It will take 3 working days only. Moreover, we will get the audit done and the ISO Certification Pune or JAS-ANZ certification will be sent to you by courier at your address.
Now, the procedure of ISO certification Pune is done.
For further more information regarding ISO 14000 Guide, ISO 22000 Guide, ISO 9000 Guide or more, you can follow our blog. Send us your query on Email: contact@legalraasta.com and ring us at 8750008585.
Related Articles:

Education about ISO Certification in India

How can ISO Certification boost your brand image?