Process of conducting a Trademark search
A Trademark filing could be of anything such as sign, design or expression which identifies products or services from a particular source. A Registered logo provides its owner an exclusive right to use that mark to identify or represent its products or services. In India, Intellectual Property awareness has steadily increased among businesses over the last decade and the number of trademark applications has increased steadily. Therefore, it is relevant for the existing businesses as well as for new businesses to register their marks and be aware of trademark application which is similar to the interests of the business. In this article, we will let you know the process of conducting a Trademark search in India.
Trademark Database
Registered trademark and Trademark registrations are controlled by the Controller General of Patent Designs and Trademarks. Through this website, an online trademark search database is available and you can use both professionals and non- professionals to do a trademark search. It contains all the trademarks application submitted to the Trademark registrar in India including registered, applied, objected and expired trademarks. A trademark search of the trademark database will provide you with valuable information relating the trademark search query.
How to do a Trademark Search
For doing a trademark search in India, you have to visit the trademark search database using a web browser.

Following are the steps:
Select Wordmark as the Search Type at the top of the page.
Enter the wordmark you would like to search the trademark database with. There are three conditions on which trademark database can be compared against the search query- "start with", "contains" and "match with".
» Start with will display all entries in the trademark search database that start with the value provided for search.
» Contains will display all entries in the trademark search database that contains the value provided for search.
» Match with will display all entries in the trademark search database that matches with the value provided for search.
Enter the applicable class. Basically, trademarks are divided into 45 classes and with each class representing a distinct group of goods or service. So, a registered trademark or trademark application will only be pertinent to the class under which it was applied for.
Click search to begin the trademark search.
Understanding Trademark Search Results
In the below example, the trademark search results for the word "Ford" under Class 12 ( related to vehicles) is displayed.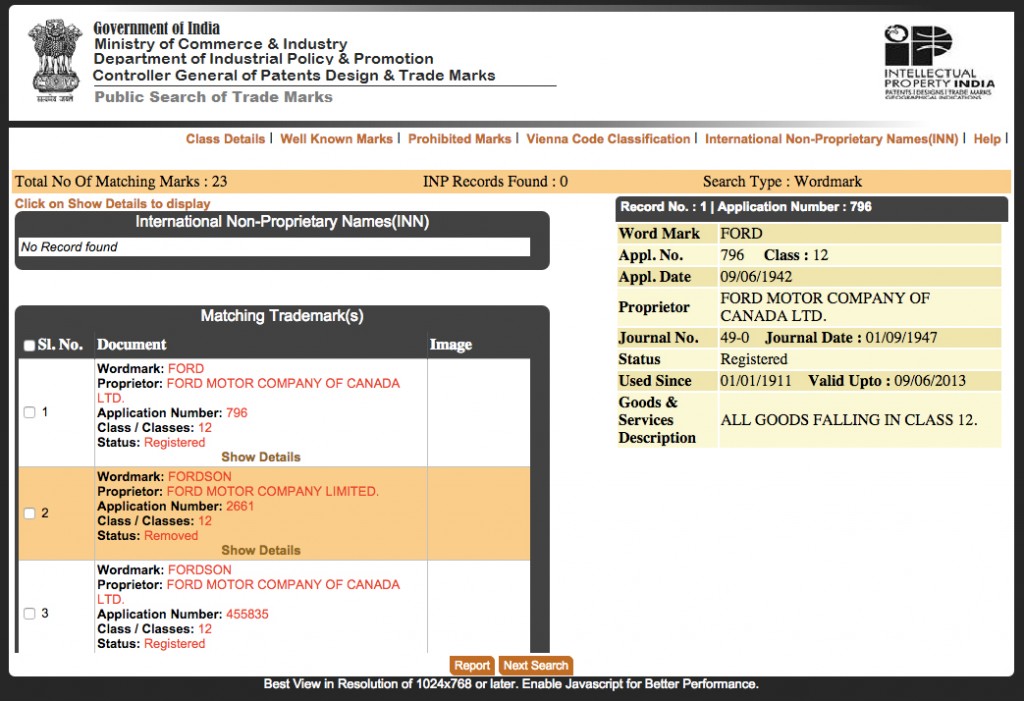 In the above page, there is a list of trademark search results of all the trademarks that start with the word "Ford" registered under class 12. There is no doubt that Ford Motor Company of Canada Limited is the owner of the wordmark " Ford" under class 12. You can select the option "show details" would display information pertaining to the trademark application number, application date, owner information, trademark validity date, a trademark used since date and a description.
A single search can bring up a number of similar things. Besides, the understanding the trademark search status is essential for interpreting the implications. If in case, no match is found then there are no registered or applied trademarks that have the same name. In addition, trademark search database for the same query with a different match type or a modified query is then recommended.
Trademark classes of Goods
Class 1. Any kind of Chemicals that are used in Industries, science or photography, even chemicals used in agriculture, horticulture and forestry, also the adhesives used in Industry, unprocessed plastics, chemical substances involved inedible substances.
Class 2. Any kind of paints or varnishes, any preservative used against rust and damage of wood, metals used in foil and powder form used by painters, decorators or printers, even mordant and colorants.
Class 3. Substances used in laundry, also cleaning and polishing; and has chemical applications, soaps, perfumes, oils, any kind of cosmetics.
Class 4. All industrial greases and oils, any kind of lubricants, wetting or binding compositions, all fuels and candles and wicks.
Class 5. medical preparations (Veterinary and Pharmaceutical, including sanitary preparations also, any dietetic substance), baby food, plasters, dressing material, disinfectants, dental wax, preparations to destroy vermin.
Class 6. Common Metals and alloys, any material used for metal building; non-electric cables and wires (all of the common metals), pipes and tubes and other small metal hardware, also ones are included
Class 7. Machines and their tools, motors or engines (land vehicles not included), incubators (for eggs) and agriculture machines (hand operated not included).
Class 8. Hand tools, cutlery, razors, and side arms.
Class 9. Any instrument and apparatus used in science, navigation, Photography, Cinematography, optics, weights and measurements, signals, supervision, life-saving and/or teaching, also conducting, transforming, switching, regulating, transmitting or reproduction of sound or images; any kind of magnetic data carriers or recording discs, vending machines(automatic) and any coin-operated apparatus; computers, cash registers, calculating machines and fire-extinguishing apparatus.
Class 10. Any kind of medical apparatus including surgical, dental and veterinary instruments and apparatus, artificial limbs or eyes or teeth; Orthopedic articles also included.
Class 11. Any lighting, steam generating, heating, drying, cooking, refrigerating, ventilating, sanitary or water supply related appliances and apparatus.
Class 12. Vehicles and apparatus for locomotion (in/by land, air or water).
Class 13. Fireworks, Firearms, Explosives, and ammunition (also projectiles).
Class 14. Any precious metal and its alloy and any goods made of that precious metal or even coated with, jewels and ornaments and precious stones; also chronometric instruments.
Class 15. Any Musical Instrument.
Class 16. Cardboard and paper; any goods made from them; printed matter, photographs and all stationary given that they are not included in any other classes, adhesives (at the household level), paint brushes, office requisites; teaching material (excluding any kind of apparatus), printing blocks and plastic material for packaging.
Class 17. Rubber, mica, gutta-percha, asbestos, gum and any goods made from these, packing, insulating and stopping materials, extruded plastics, pipes (flexible and not made up of metals).
Class 18. Leather any kind of its limitation, any goods from this material, trunks, hides, animal skins, and traveling bags; parasols, umbrellas, and walking sticks also harness and whips.
Class 19. Non- metallic building materials, rigid pipes again non-metallic and used for building purposes; bitumen, asphalt, and pitch; monuments, not of metal.
Class 20. Mirrors, furniture, picture frames; any goods of wood, reed, cork, wicker, cane, bone, horn, whalebone, ivory, amber, shell, meerschaum, mother-of-pearl or any kind of their substitutes, also plastics given that they are not included in any other class.
Class 21. Household utensils and containers (including kitchen), sponges and combs; brushes(excluding paint brushes) and materials included in their making; steel wool and unprocessed glass, porcelain and glassware; also earthenware.
Class 22. Tents, nets, strings, ropes, tarpaulins, awnings, sacks, sails, bags (which are excluded from other classes); stuffing and padding materials; raw textile materials (fibrous).
Class 23. Threads and Yarns (textile use).
Class 24. Textile and their goods; bed covers and table covers.
Class 25. Footwear, clothing, and headgear.
Class 26. Ribbons, Embroidery, Lace, and braid; hooks and buttons, needles and pins; artificial flowers.
Class 27. Mats, rugs, carpets and matting, linoleum and other similar materials used for covering existing floors and also wall-hangings which are non-textile.
Class 28. Sporting and gymnastic articles; games and any kind of playthings given that they are not included in other classes and also decorations for Christmas Trees.
Class 29. Fish, meat, poultry; meat extracts; dried, cooked, frozen edibles (fruits and vegetables), jellies, jams; eggs, milk, and its products, oil (edible).
Class 30. Tea, coffee, rice, sugar, tapioca, artificial coffee, and sago; bread, flour, pastry and confectionery; honey, ices, yeast, treacle, salt, baking powder, mustard, sauces, vinegar, spices, and ice.
Class 31. Products from agriculture, forest and horticulture, and grains gave that they are not included in other classes; fresh vegetables and fruits; live animals; seeds; plants and flowers (natural); food product for animals.
Class 32. Mineral and aerated water; Non-alcoholic drinks and beers; fruit juices and drinks; syrups and preparation for beverages.
Class 33. Alcoholic drinks (excluding beers).
Class 34. Smoking articles, Tobacco, and matches.
Trademark classes of Services
Class 35. Business Management; advertising; business administration and other office functions.
Class 36. Financial affairs, Insurance; Monetary affairs; real estate affairs.
Class 37. Repair, Building construction, Installation Services.
Class 38. Telecommunications
Class 39. Packaging and storage of goods; Transport.
Class 40. Treatment of Materials.
Class 41. Providing training; Entertainment; sporting; Education and other cultural activities.
Class 42. Technological and scientific services; industrial analysis and research services; development of computer hardware and software and their designing.
Class 43. Services related to providing drinks and food or temporary accommodation.
Class 44. Any kind of Medical services (including Veterinary, hygienic and beauty services) both for humans and animals; horticulture, agriculture, and forest services.
Class 45. Legal and security services; personal and social services.
Benefits of a Trademark search
You will realize the fact after knowing the benefits of a trademark search that you need it before using a mark name, logo or phrase in commerce. There is a need to do an in-depth trademark search analysis which is even highly recommended to determine if your proposed mark is available and clear of potential conflicts. Following are the several benefits in a trademark search:
Discover Potential Conflicting Marks
The first and foremost work of a trademark search is to let you know whether someone has already begun to use an identical or similar mark. If in case, your proposed mark conflicts with an existing mark then you are inviting an infringement lawsuit. Such actions cost you legal fees, monetary damages and would force you to stop using your mark name. Before you invest time and resources in a mark such as product name, marketing materials, design logos etc, it is critical to know if your mark is free of any possible conflicts.
Second thing, through trademark search you can save your time and money. Moreover, a comprehensive trademark search will help you to avoid lost marketing and production costs. Instant saving can be done when trying to file a trademark application with the patent and trademark office. It will reveal any registered or pending marks that are exact or similar to your mark. Hence, if you discover that conflicting marks already exist then you will save yourself the trademark application fee by not filing the same name. The fee of government is typically non-refundable.
In-depth Analytical Search Results
The trademark search will look at marks that are sounding similar, appearance and meaning. Not only this, but it also looks for marks having alternative spelling, anagrams, wildcards, word truncation, root words, multi-character substitutions, word segments and permutations, character replacement truncation variations, pseudo marks, and more. For example, if you search for "Cat dresses" then the trademark will show if "Kat dresses" exists. However, they are spelled differently but both the marks have similar sounding and meaning. A trademark infringement may also exist if it is similar in appearance, sound, connotation and commercial impression.
Note: It is mandatory to notice one thing that a trademark to be registered must not be similar to any existing trademarks.
For further more information related to How to check trademark status or more, you can visit our website: Legal Raasta. Give us a call at 8750008585 or send your query on Email: [email protected].
Related Articles:

All you need to know about Trademark Search

International Trademark registration Guide