FSSAI is the Food Safety and Standards Authority is the initial Administrative Body in India. It lays down the entire criteria for the food business operators (FBO) depending upon the type or kind of business. Central FSSAI License is given to the food business operator who is operating their business on a wide scale or big sale manufacturer or having a more than 20 crores turnover every year.
What do you mean by the fssai central licence?
Central FSSAI license is obliged for all several food businesses concerned in the production, storage, manufacturing, shipping, retailing and delivering of food products. Based on the quality of the project of the business, the FSSAI License can be allotted by the Central FSSAI Regulator or State FSSAI Regulator. For viewing the List of Central Designated Officers login to the www.fssai.gov.in the official website of fssai.The FSSAI Registration is important to get the fssai central licence. Also, the FSSAI Registration is essential to assure that there is a fresh and clean delivery of food products.
Types of fssai licence in India
The importance of FSSAI License is simply that a food business in India operates through to The Food Safety and Standards Act, 2006 has to issue the FSSAI License on the basis of the business's turnover. There are 3 types of fssai licence in India that helps the FBO to easily operate and issue licence according to their requirements.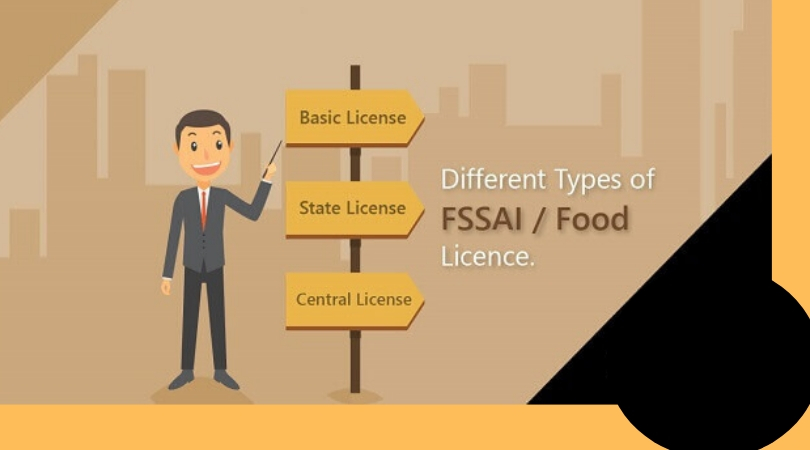 Eligibility of Central FSSAI License
The following businesses are expected to take Central FSSAI License:
Every proprietary foods manufacturer
All kind of hotels which are 5 stars and above than that.
Food Restaurants having a turnover of-20 crores or more than that per annum.
The Retailers, Distributors, Wholesalers or Storage having a base in the Central Goverment agencies.
The transporters having 100 or more vehicles plus have more than 30 crores every annum turnover.
Members under Central Government Agencies like Defence, etc and food catering services in institutions.
Marketers having a turnover of 20 or more than that per annum.
Wholesalers, retailer, supplier and distributor having a turnover of more than Rs.30 crores per annum.
Caterers holding a turnover of more than Rs.20 crores every year.
All food processing units including repackers and relabellers processing more than 2 MT per day excluding cereals pulses and grains milling units.
Each having 100% value -Export Oriented Units
Every importer- importing food items plus food elements and additives for commercial usage.
Food catering services at seaport found at Delhi, Kolkata, Mumbai, Bengaluru, Ahmedabad, Vishakhapatnam, Amritsar, Hyderabad, Cochin and Chennai.
Meat processing units-150 MT per annum or more than 500 kg of meat per day
Slaughtering units which manage more than 150 tiny animals, 50 big animals or more than 1000 poultry birds per day.
Vegetable oil processing units – units producing vegetable oil by the method of solvent extraction plus refineries counting oil expeller unit processing more than 2 MT every day.
Cold Storage + Controlled Atmosphere having a potential of higher than 1,000 MT.
Refrigerated Storage having a volume higher than 10,000 MT.
Cold environment having a potential of higher than 50,000 MT. Storage units are different than those having a controlled atmosphere.
Dairy units plus milk chilling units provided to control or prepare more than 50,000 litres of liquid milk per day.

Documents Required for getting Central FSSAI License
The list of documents is compulsory for receiving the Central license of fssai or else it might end in cancellation of the application or will take additional time as well. These documents are also compulsory for Fssai licence as well.
 Declaration Form of FSSAI licence
  If applicable a copy of certificate received below the Coop Act – 1861 / Multi-State Coop Act – 2002 in case of Cooperatives.
Completed and signed Form- B by the Partner, Authorized Signatory or Proprietor.
List and name of machinery and equipment adjacent with the quantity, installed capacity and horsepower used. It is compulsory for production and manufacturing units only.
DGFT issues a document of IE code.
Proof of turnover in supporting the documentary.
NOC from the local body or Municipality. It's an optional document.
The certificate is given by the Ministry of Tourism (Hotel & Restaurant Approval and Classification Committee ). In case of hotels its Mandatory document.
PA/NOC documents circulated by FSSAI.
Copy of License from the manufacturer and NOC of the same.This Compulsory for Repackers and Relabellers.
Proof of possession of premises -Sale deed, Rental Agreement or Electricity Bill, it's Optional.
List of Partner, Directors, Executive Members of Society, Proprietor, Trust with complete address and contact details. It is Necessary for Companies only.
Review report Chemical & Bacteriological of water to be applied as an ingredient in food from a verified or public health laboratory to verify the portability. It's Necessary for manufacturing and processing units.
Listing of food category wanted to be manufactured it's for manufactures.
If any of the Certificate or Food Safety Management System Plan ( FSMSP)
Documentary evidence of turnover or self-declaration of a number of vehicles, It's a compulsory document for Transporters.
Frequently asked the question of central fssai licence
1) Is fssai licence mandatory for 100% export units?
Ans. Yes, In the case of import & export of food products, the FSSAI central license is mandatory.
2) Can a central fssai licence be renewed?
Ans. Yes, once the FSSAI central license gets expired, immediately the application for renewal is expected to be filed adjacent with the required documents otherwise FBO will have to pay a penalty of Rs. 100 every day till the time you didn't get it renewed.
3) Do hotels and restaurants also require a central fssai licence?
Ans. Yes, hotels and restaurants do require a central fssai licence.
4) What is the highest time limit of getting FSSAI central license?
Ans. The maximum time set of getting FSSAI central license is 20 to 25 working days.
5) What do you mean by FSSAI licence?
Ans. FSSAI license is a 14 digit number which needs be mentioned on the food item. Custom will remove the product if there is no license number on the food product.
Are you looking for a fssai central licence in India then your stop is here? For receiving an FSSAI License or an FSSAI Registration you can log into our website Legalraasta. For more services like FSSAI Product Approval, FSSAI License Renewal Procedure and FSSAI Return you can contact our expert team. Simply call on +91-8750008585 or you can simply mail on contact@legalraasta.com.Now you can download our app also simply just click on the link given below and without a doubt download.
 https://play.google.com/store/apps/details?id=com.legalraasta.www.legalraasta_gst.
We will serve your food business to assure customers that you are using the safest and best food production and will help you to stay on the protected side. So let's get started!
Related Articles

Franchise business opportunity