In today's Internet and digital world, conventional marketing and brand building techniques are just not enough. So if, you're a restaurant business in today's day and age building your brand awareness and outreach will require you to cater your marketing for Millennials (born 1982 to born 2002), Generation Z as well as baby boomer generation. These generations have become accustomed to the mobile and Internet world and make major interactions with brands via the Internet. Today, if anyone visits a restaurant they just open their phone cameras, tag your restaurant and make good or bad recommendations to millions of people on the Internet. Its almost as if you're not serving food to 1 person, you're serving to the whole world via that 1 guest. In this article, we're going to discuss how to tweak your marketing plans accordingly and create restaurant brand awareness for the modern age.
The food, restaurant and hospitality industry like any other industry, in today's market has become extremely competitive. There has been a gradual shift for companies on more concrete and long-lasting  ROI impact factors including added value and brand awareness. Brand awareness has made its own advancements with the advancement in technology.
Let's be real, all our major work and leisure related activities now happen via the internet. I even watch "TV shows" via the internet. (RIP TV industry article soon?) It has been projected that the amount of time people spend just surfing the internet on their mobile devices alone has extended to over 4 hours. That's an incredible amount of screen time to capture potential customers just wandering around on the internet, isn't it? Let's make use of that to create restaurant brand awareness for the modern age! Let's look at some more interseting stats to see why you shouldn't ignore the internet (Specially Social Media ) for your restaurant business.
Almost 56% of people go out to eat at least  2-4 times in a week and 63% people go out at least once a week to dine in a restaurant. Wouldn't it be nice if most of these people came to your restaurant?
Many restaurant go-ers regularly keep are on the lookout to discover new places to have their meals (64%). Only 18% of people stay loyal to their restaurant preferences. Again, a huge window of opportunity to grab new customers every day.
68 % of people are ready to try new restaurants based solely on positive online reviews. So make sure you encourage people to refer you online or review you (give out incentives to promote your restaurant online)
Therefore, it is safe to say if your restaurant is available on the major search engines and social media outlets or at least people talk about your restaurant online you will absolutely march ahead from those restaurants who are ghosts on the internet.
There are two major factors for generating restaurant brand awareness for the modern age:  Brand Recognition and Brand Recalls. Let's look at how to address these to achieve better outreach.
But before you start with all the promotion, marketing, and pomp and show, Don't forget that in order to even keep your restaurant running you need statutory licenses from the government namely FSSAI License. You should also take a look at the following article for starting a food business in India:
Generating Brand Recognition
The basic outlying principles for increasing your brand recognition include Increasing visibility and Creating Strong positioning.
For example, if I search on the internet for pasta places in Delhi, following results show up. Without a shadow of a doubt, I would want to go to places with higher star-ratings. See how the ratings also mention if the restaurants are "Good for kids" and other remarks such as the type of dining outfit "Casual" and ambiance factors like "Cosy".  Damn, I don't know about you, but I've gotta go get me some pasta from Cafe Tonino now!
Get on the Map! Literally as well as figuratively, being visible in search results and search rankings will in the long-run, beat out having a funky name or having a prime location because if it's almost as if you don't exist on the internet, you don't exist at all!
Sign up for Google My Business and carefully enlist your restaurant as a business on the world's most famous search engine. Provide the links to your website or any other social channel that you need to promote, just make sure the information on the listing and on the website match up.
Just a building a website isn't going to be enough, site optimizations, SEO&SEM (Search Engine Optimizations and Search Engine Marketing), PPC there are a lot of considerations for your site to rank and it can be complex, however, here are some general pointers on how to improve rankings.
Go Mobile: Mobile versions of sites are very important like we said, people surf the internet on their phones for an average of 4 hours per day! Make your site mobile friendly. It should also load fast because half of the people leave your site if loads slow.
Invest in good content and good content writers to focus attention to the keywords in a search engine that you are trying to rank for. For eg. Pasta Delhi or Burgers in Delhi.
Online Reviews Rule your World
In the past 15-20 years I haven't seen one single person go out to a restaurant before checking online reviews or star ratings, it has been going on the US on sites like Yelp and in India this job is done by many sites including Zomato as well as Google, there might  be others which I am unaware of . The whole point is, you absolutely cannot, CANNOT  have bad online reviews for your food business. It's the silent killer for restaurants business which already has a high failure rate of 60% for new restaurants. So, even though your food might be good but if something about your restaurant irks customers, online reviews are the place to start addressing those issues. On the contrary, if a restaurant doesn't an out of the world food, but their online reviews are good it just means you attract more footfall to your restaurant which, I think is a positive outcome.
Also, engage with customers on the reviews thank them for good ones and apologize for bad experiences which led to a bad review. It shows you care!
Pointers  for reviews
Sign up for websites which provide a citation to local businesses and have many active users eg. Zomato and Google My Business.
Find out the local influential food bloggers and invite them to come, have a meal and review your restaurant. A good review from them can really shoot up the buzz and brand recognition around your restaurant.
Like we said before, engage and encourage your customers to review you online. Incentivize the process for eg. Snack for a review or some reward scheme.
Build an Identity
Okay, let's for one moment assume that you have taken care of reviews and appearing on the map. Great, step 1  is done. You are now among the 1000s of restaurant available at the end consumer's fingertips. Now, how do you ensure that a person clicks on your restaurant instead of the others? It's based on how good you position yourself and the identity you make in front of the customers.
Identify your strengths: It could mean anything from your best prepared and loved dishes, your decor, your ambiance but you need to identify what strengths you have over your competitors. It could also just be that you're just better at advertising.
Tell a Story: You can talk about things you think will well resonate with the audience or you can take them on a journey of how your restaurant came into existence. Anything which portrays a human side to the efforts behind putting food on a consumers plate will evoke an emotional response of one sort or another. For eg. look at how these two brands told a story which intrigued users.
Utilize All Channels: Music and Videos, Pictures are all good channels of showcasing your positioning. One of the world's most famous Donut making companies used Facebook Live to showcase behind-the kitchen scenes
Our first-ever LIVE tour of the DD test kitchen + a big announcement for engaged Valentines!

Dunkin' यांनी वर पोस्ट केले गुरुवार, ११ फेब्रुवारी, २०१६
Consistency is Key- The most effective and efficient restaurant brands are consistent. Here's where you Social media posts every day or every two days to ensure you keep engaging with the community on a regular basis to show people you're still relevant!
Brand Recalls: A road to success for restaurants
The terms brand recognition and brand recall although sound different but there is a very thin line between them. Although there is no law or technical specifications written down for this, There are several ways your restaurant can ensure brand recalls.
Engage with the Community
Nothing makes a customer feel more special when their favorite eatery responds and engages with them on social media or anywhere on the internet. Have a look at this conversation between Taco Bell and a customer. Look, how well they engaged with a piece of content.
Show Customers you need them
Introduce coupons, loyalty programs, specials for customers if they're regular and also it will help to turn occasional customers into loyal re-visiting consumers. They interact with staff, relating to this place, bring their relatives and or friends and it leads to a healthy environment within the restaurant.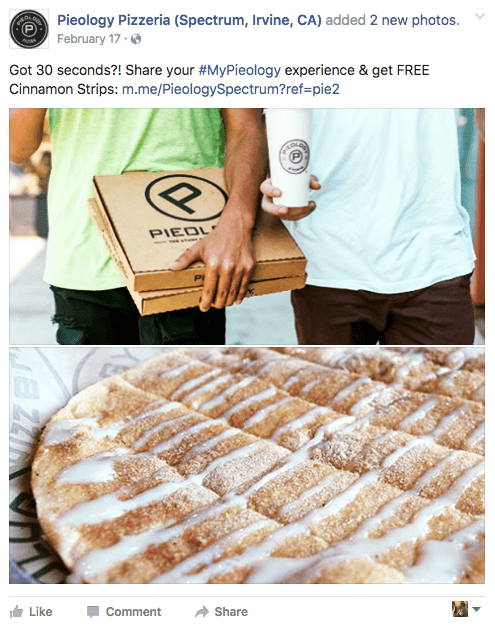 Hence, it is imperative that just good food is no longer enough to keep customers engaged and retain them for long. A restaurant business has to adapt to the changing times and offer their best foot forward to brands both online and offline. It becomes one of the essential pillars of restaurant brand awareness for the modern age.
Don't forget before you start marketing your new restaurant, obtain the necessary FSSAI License from LegalRaasta.
About the Company: LegalRaasta is one of India's top legal services firm. We provide a wide-range of services to enable small businesses to achieve their goals by guiding them through the legalities on their behalf . Some of our top services include GST Registration, GST Return Filing, Company Registration as well as Trademark Registration and Free Trademark Search. Reach out to us with your requirements on +91-8750008585