Myntra is an Indian e-commerce fashion marketplace platform. Though the company is headquartered in Bengaluru, Karnataka, India but. Though the company was founded in 2007 by IIT graduates and focused on personalized gifts but within three years, Myntra shifted its focus to online retailing of branded apparel.
In May 2014, Myntra merged with Flipkart to compete against the e-commerce giant, Amazon which entered the Indian market in June 2013 and various other established offline retailers like Aditya Birla Group, Future Group, and Reliance Retail.
Myntra has one of the largest consumer bases in India with products catering to every age and sex. It is a Business-to-customer marketplace that allows different business houses to sell their collection online. Becoming a seller on Myntra is not difficult, but the only concern is that it permits only registered business entities to sell on its portal.
This implies that if an individual wants to become a seller on Myntra: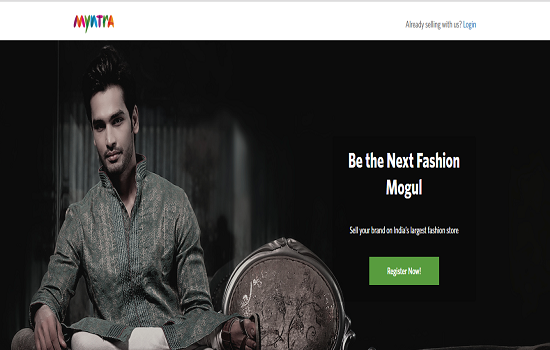 One has to fill the Sell With Us form. If the proposal is accepted by Myntra, then you can begin selling.
The seller should be registered either as a Private limited Company, Sole Proprietorship, Limited Liability Partnership or Partnership.
Your TIN (Taxpayer Identification Number)
PAN card details of the business entity, and
Current Account with Bank's name and branch
Name of Account Holder
Account Number
IFS Code.
With a quick registration of your entity, it's just a matter of few days and you will be ready to roll out your products on Myntra.
Next, you should furnish your details, so you can start listing your products. Finally, you can start selling your products on Myntra. As soon as your store goes live, customers will be able to surf through your products.
The Myntra channel is a user-friendly platform which makes it easy to handle your products. The interface is easy to handle and one can use specialists to increase the brand value of the store.
Once the store goes online,

1)    You will start receiving orders which will be notified on your seller dashboard. The dashboard also helps you manage your store.
2)    After receiving the order, the consignment will be packed.
3)    Then, invoice is to be generated and
4)    A pick-up date and time has to be selected. Orders can also be dispatched by other courier lines. There will be a certain tracking id that needs to be entered against the order.
Within 15 days of acceptance of the order, money will be transferred to the seller's bank account after deductions from Myntra's end which include commissions and other overhead charges.
Myntra is a well-known branded fashion portal which looks after the needs of all their sellers and buyers. Also, it is a trusted portal and there are no strings attached. Therefore, you can rest assured that you won't be cheated upon.
So, the above-mentioned steps are a way you can be on Myntra and sell your products online which is a hassle free process.
Why should you become a seller on Myntra?
1)    HELP INDIA LOOK GOOD – So being one of India's largest fashion houses, Myntra aims to help their consumers look trendy and fashionable on a regular basis. Hence by being a part of this journey, you will lend a helping hand to make India more fashionable.
2)    EASE OF SELLING – With a user-friendly interface to manage your store, listing support and a well-set consumer supply chain management, sellers can focus on his brand and Myntra will look after everything else.
3)    LEARN FROM FASHION EXPERTS – With superb profiles, one has access to latest industry trends and fresh content for his brand.
4)    GROW WITH OUR MARKETING EXPERTISE – Various promotion campaigns, social media engagement and in-depth sessions to help you understand your customer better will help in your business growth.
These are few simple steps which will put you on the map and people will come to know about your products with the help of Myntra. So what are you waiting for? If you want to get in touch with customers, here is the solution!