The Concept of Digital signature
In the current scenario, we are living in a situation where carrying out business and personal activities are becoming very easy and smooth. In an era of digitalization, the significance of a Digital signature has been increased as it is greatly embraced in the entire world. Now, we have no longer any limitations in our business or personal lives.
Basically, all the physical documents such as invoices always need a handwritten signature to validate their authenticity. Same in that manner, electronic documents also need authentication and that's what the role of Digital signature certificate. It simply authenticates the electronic document.
For further information regarding DIN registration, PAN registration, TAN registration or DIR-3 Registration must follow our blog.
What is Digital signature? 
The digital signature is defined as an electronic signature that can be used by senders of certain documents to show that the document originates from them. In technical terms, it consists of the pair of keys, Private Key and Public Key. DSC can provide added assurances of the evidence to provenance, identity, and status of an electronic document and acknowledging informed consent as well as approval by a signatory. It also works for ensuring the security of the document. If in between the document gets interfered while sending process then the receiver will be able to know there has been an alteration because of the digital signature.
It generally contains the person's name, their pin-code, the email address, their country name, the certifying authority's name, and the date when the certificate was issued. The main purpose of this certificate is to validate the Digital signature. Different countries have different provisions regarding DSC Registration. The governments are taking the initiative with regulations for their creating as well as their use, and this has helped with the adoption, trustworthiness of DSC and dependability. But it must be created within the confinements of the cryptography which is bound by industry-standards to make it effective and reliable. Else, it may be questionable.
Several countries have come up with laws that govern the acceptability of these digital signatures, and they have become a very dependable way of doing businesses as well as communicating. Not only this rather they offer a lot of advantages to every user. Slowly and gradually, paperwork has vanished because of Digital signatures.
Types of Digital signatures
Different classes of DSC has been used for different purposes. Each class of it is associated with specific security features and corresponds to a specific level of trust.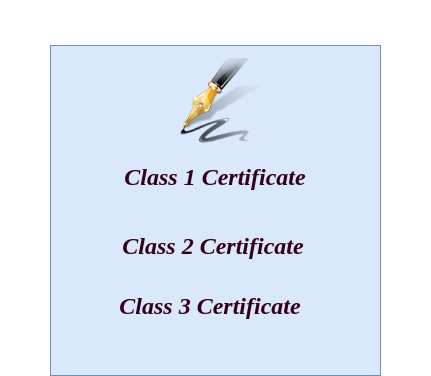 Following is the table to illustrate the types of Digital signature certificate:—
| Types of DSC | Assurance Level | Applicability |
| --- | --- | --- |
| Class 1 Certificate | Issued for Business personnel as well as for Private individual use. Besides, it confirms that the information provided in the application doesn't conflict with the information in the well-recognized consumer database. | Provides assurance important to environments basically where there are risks and consequences of data compromise but they are not considered to be of major significance. |
| Class 2 Certificate | Issued for both Business personnel as well as Private individual use. It confirms that the details provided in the application don't conflict with the details in the well-recognized consumer database. | It is important to environments where risks and consequences of data compromise are moderate. It may include transactions that have substantial monetary value or risk of fraud. |
| Class 3 Certificate | Issued for individuals as well as organizations. These are the high assurance certificates, primarily intended for e-commerce applications, they shall be issued to individuals only on their personal appearance before the Certifying Authorities. | It is important to environments where threats to data are high or the consequences of the failure of security services are high. It may happen that it includes very high-value transactions or high levels of fraud risk. |
How and where you can use Digital signatures?
DSC has no restrictions, anyone can use it means it can be used in many sectors of life. Following are the few places where you can use this:
Almost you can sign every document that you send out electronically for security purpose. No matter where you are sending the document and to whom. You can use it the way you want.
You are free to send your electronically signed documents to the business partners, investors, and other shareholders when communicating important official information. For example Business deals and signing proposals. Those who are doing business in the field of Architecture, Engineering, and Construction companies (AEC) can use these signs to sign tenders, procurements and making biddings. Through this, a business can run very smoothly.
In India, GST registration has brought better days into businesses. Still, people were facing problem to do GST return filing. But the issuance of digital signatures and the availability of e-filing, the process has been made easier, efficient, faster and convenient.
In India, many citizens have to do their income tax returns filing(ITR). Often people face difficulty in filing ITR so they avoid doing this task. But the introduction of Digital signature made the things easier and better than ever. Now you can file this just by sitting at home with comfy.
Companies have to file many documents with ROC (Registrar of Companies) in India. Hence, DSC will come in handy when signing these documents.
Finance and insurance sector
This sector also includes a lot of paperwork whether it is the application of loans and mortgages, applying for insurance or claiming, signatures will always be required. To make the business smooth and easy these institutions are using digital signatures.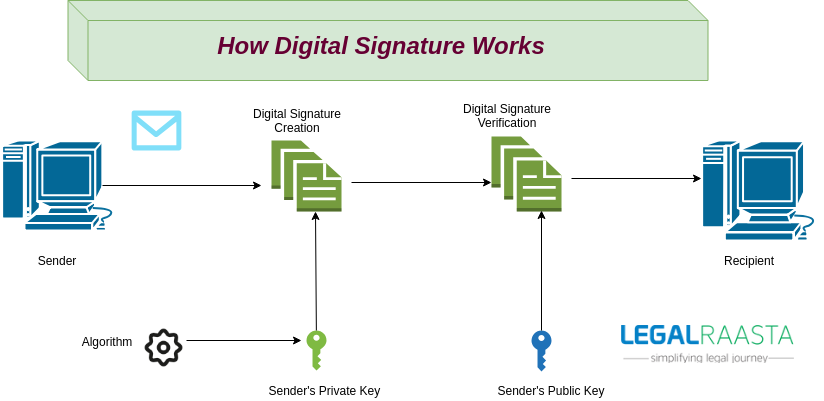 Documents Required for obtaining a Digital signature 
Following are the documents that should be accurate while applying for DSC registration as it is going to justify your further documentation:
For Individual Certificate
Application Form
Identity proof
Address proof
Attesting Officer proof
For Organization Certificate
Application Form
Authorization Letter
Identity proof
Organizational proof
Attesting Officer proof
Authorized Signatory proof
In the above documents, you can use any one of the following documents as an Identity Proof in case of Indian Individual certificate:
Passport
PAN Card of the Applicant
Driving Licence
Post Office ID Card
Bank Account Passbook containing the photograph and signed by an individual with an attestation by the concerned Bank official
The photo ID card issued by the Ministry of Home Affairs of Centre/State Governments
Any Government-issued photo ID card bearing the signatures of the individual
You can use following documents as address proof in case of Indian Individual certificate:
AADHAAR Card
Voter ID Card
Driving Licence (DL)/Registration Certificate (RC)
Water Bill (Not older than 3 Months).
Electricity Bill (Not older than 3 Months)
Latest Bank Statements signed by the bank (Not older than 3 Months)
Service Tax/VAT Tax/Sales Tax registration certificate
Property Tax/ Corporation/ Municipal Corporation Receipt
What do identity proof and address proof consist in case of Foreign Individual?
IDENTITY PROOF (ALL ARE MANDATORY)

ADDRESS PROOF (ALL ARE MANDATORY)

Attested copy of Applicant Passport
Attested copy of VISA (If an applicant is out of the native country).
Attested copy of Resident Permit certificate (If an applicant is in India)

Attested copy of Applicant Passport
Attested copy of any other Government issued Address Proof.
Procedure for obtaining Digital signature certificate
Following are the steps that need to be followed:
STEP 1:  Log on and select your type of entity
Visit the website of a Certifying Authority licensed to issue Digital Certificates in India. Having accessed the page, you will be guided to the Digital Certification Services section. Then, click on the type of entity for which you want to obtain the DSC whether individual or organization etc.
If you are applying for an individual DSC, select individual. A new tab will appear containing the DSC registration form. Download the DSC form on your Laptop.
STEP 2: Fill the necessary details
As soon as you download the form, enter all the required details in the form such as:
1. Class of the DSC
2. Validity
3. Type: Only Sign or Sign & Encrypt
4. Applicant Name & Contact Details
5. Residential Address
6. GST Number & Identity Details of Proof Documents
7. Declaration
8. Document as proof of identity
9. Document as proof of address
10. Attestation Officer
11. Payment Details
Upload your recent photograph and put your signature under the declaration. Later, take print of the completed form and preserve it.
STEP 3: Proof of identity and address
The proof of identity and proof of address must be attested by an attesting officer.
STEP 4: Payment for DSC
Now, you have to make payment either through demand draft or cheque in the name of the Local registration authority where you are going to submit your application for verification.
You can also find details of the Local registration Authority according to your city of residence by searching for a Certifying authority licensed to issue digital certificates online.
STEP 5: Post the documents required
Following are the enclosed things in an envelope:
1. Registration of DSC Form duly completed
– To Support the document for Proof of Identity and proof of address attested by the attesting officer
2. Demand Draft/Cheque for payment.
Address the enclosed envelope to the Local Registration Authority (LRA) and post it to the designated address of the LRA for further processing.
Conclusion
By completing the above-mentioned steps in the DSC form and providing necessary documents and payment, you have successfully completed the application process for your Digital signature certificate. For any query you can contact us on Email: contact@legalraasta.com and call at 8750008585. Our experts' team will provide you the guidelines and advice in the best way related to your new Company registration. You can visit our website: LegalRaasta.
Related Article:

Difference between TAN, PAN, DSC and DIN

Director Identification Number (DIN)