Voter ID status
In India, after five years election is conducted. Here citizens are very active and responsible for casting their votes to elect the ideal leader in the election process. For this, Voter ID is mandatory to be obtained. Voter's ID Card is an identity provided to eligible voters which they can use to cast their vote in the elections in India. It is authorized by the Government of India as an identification proof. After filing an application for this card, you can check the voter ID status online.
Structure of Voter ID Card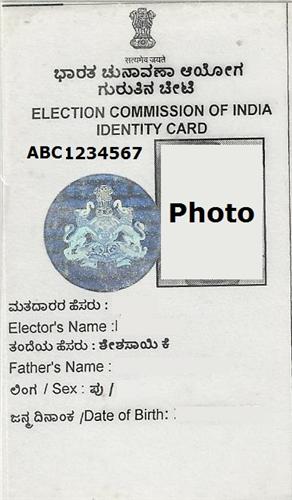 It consists of the following information of a person:
A unique Serial number
Photograph of the cardholder
A hologram containing the respective state/national symbol
Name of card holder
father's Name of card holder
Gender
Card holder's
Card holder's date of Birth
How to check your Voter ID Card status?
Following are the steps which have to be followed to track the status of your Voter ID:
Visit the National Voter's service portal: http://www.nvsp.in/Forms/Forms/trackstatus
Enter the Reference ID that you have received at the time of Voter ID Registration & Form No.
Then click on Track Status
Your status of voter ID will be displayed on the screen.

How to track the correction status of your Voter ID?
You can also check for the correction status by using the reference number that you have obtained while submitting the form 8. Just follow the listed steps:
Log on to http://www.nvsp.in/Forms/Forms/trackstatus. It is the official website of the National Voters services portal that provides a wide range of Voter ID-related services.
Enter the accurate reference number provided to you during the form 8 submission. It should not be omitted or should not contain any error in letters or numbers.
Click on the Track status to see the results. Now, it depends on your progress of application what type of result you will see.
If your application is not processed then it will show pending status to you and you can bookmark the page to visit here later.
Not only this rather you can also track your Voter ID status by calling 1950 from your BSNL or MTNL telephone.
How long will take to correct the Voter ID card?
The entire process of correcting a voter ID card takes around 2 to 3 weeks. All you need to provide the requisite documents in order to request for voter ID correction(s).
Application Number for Voter ID Card
Tracking of Voter ID Status is not only confined to one way rather it can be done in several ways. As soon as you plunge into the procedure of registering voter ID card either offline or online, you are provided with an application number by the Election Commission of India (ECI). This application number is usually of 11 digits and plays a very crucial role in tracking the status of voter ID.
Electors Photo Identity Card (EPIC) status Number
An EPIC number is a unique number generated at the time of enrolling you for the allotment of Voter ID.
Application Status of Voter ID
Ideally, two things must happen as soon as you are done with the application process:
You will receive your Voter ID in 1 or 2 months
Team for verification must visit your residence.
If nothing happens to you from the above circumstances within a span of 2 months then must inform the ERO, Zonal officer, Local Tahsildar or the polling station of your area. If no one responds, you should directly log in to the official CEO website to understand the problem with your application and the stage at which it is stuck.
How can I check my Enrolment Application status Online?
In order to check the status of your enrolment application, you will have to visit the homepage of the respective states Chief Electoral Officer (CEO).
Click on the link titled 'Know Application Status for enrolment'.
All required details will have to be provided.
How to track Election Card Status? (Detailed)
Gone are the days when you used to physically visit the election office to know the Voter ID registration status whether it is in transit, under process or canceled. But no longer now. Digitalization has made it easy and smooth to get the things done just by sitting at home and move your fingers on the keyboard.
There are basically three ways through which you can know your progress of an application:
Online using the official website of the ECI.
Using your mobile via SMS.
Calling the helpline number.
Checking Voter ID Card status by Online
Recently, the government of India has created an exclusive website especially for Voter ID information where you can search all the details regarding your application. Only the information that you will be going to enter online to attain the status of your voter ID should match the information you filled during the application filing. Any error or mismatch wouldn't give you the correct status of your card and may lead to a failed result.
Following are the steps to be followed while checking the status of voter ID:
Log in to the electoral CEO official website.
Select the "Know the status of your Application for Enrolment". As soon as you click on this link, a window will open asking for some basic details of the form such as the Form number.
Fill all the requisite details:
There is another option like you can select the national voter's service portal and click on the Tab that says "Search your Name in an electoral roll"
When the link opens, you can track your application in two ways:
           » Using your EPIC number or application number: There you find an option in the website where you can enter the EPIC number and your state number and the search will display your name and EPIC card number.
           » State or District Constituency wise search: All you need to do is enter your name, the state you are in and the district constituency you belong to, along with other details. Then the search will display your voter ID Card Status.
Following are the details that you must fill while looking for Voter ID status online:
Name
Father's or Husband's name
Date of Birth
Gender
State Name
District Constituency
Although it may happen, the website faces issues and may also crash or give out error messages. So, re-enter your details and recheck.
After filing all the details click on the search button.
In a pop-up window, your details will appear. Make sure your browser is not set to block pop-ups.
You will be able to view the voter card number as well as the e-Seva center number.
You can obtain your updated/new Voter ID Card at the respective e-Seva center by using the two numbers.
There is also an option of leaving a comment with your doubt and wait for someone from the technical team of the website to respond.
India has 29 states and every state has an electoral office or election commission of its own. Hence, each state has its respective official CEO website, where you can find details of your voter's ID application.
Checking Voter ID Card Status by SMS
The most important document that an individual wants is Voter ID. It is the proof of identity as well as an address of an individual. A citizen can procure a Voter ID once they reach the age of 18.
In order to check the Voter ID Status through SMS, following steps need to be followed:
Find out your Voter ID application number.
SMS on "EPIC" followed by a space followed by their Voter ID application number.
Send it to the Electoral Officer following which they will receive the status of the Voter ID.
TEXT: EPIC your Voter ID Application number
Now you can SMS the above message to the electoral officer.
Let's take an example, if a person wishes to find out the status of his Voter ID in Tamil Nadu then he will have to type EPIC ********and send it to the number 9211728082.
Following are the list of contact numbers for the specific cities. You can message on this number for finding out Voter ID card status via SMS.
| | | |
| --- | --- | --- |
| States | SMS Number | SMS Format |
| Andhra Pradesh | 9246280027 | VOTE< space >voter ID number |
| Bihar | 56677 | ELE< space >voter ID number |
| Chandigarh | 9216164606 | BTH< space >voter ID number |
| Karnataka | 9243355223 | KAEPIC< space >voter ID number |
| Kerala | 54242/537252 | ELE< space >voter ID number |
| Odisha | 9238300131 | CEOODI< space >voter ID number |
| Tamil Nadu | 9211728082 | EPIC< space >Voter ID number |
| Uttar Pradesh | 9212357123 | UPEPIC< space >voter ID number |
| West Bengal | 51969 | WBEC< space >voter ID number |
IMPORTANT NOTE: It must be noted, the above numbers can be used to track the application status of voter ID cards in case of correction/issue of duplicate voter ID cards only. There is no SMS facility to track new voter ID card applications.
Following are the list of the states in India with the respective website for tracking status of Voter ID card:
| | |
| --- | --- |
| Name of State | Website |
| Andhra Pradesh (AP) | ceoandhra.nic.in |
| Telangana (TG) | ceotelangana.nic.in |
| Assam (AS) | ceoassam.nic.in |
| Arunachal Pradesh | ceoarunachal.nic.in |
| Goa (GA) | ceogoa.nic.in |
| Gujarat (GJ) | ceo.gujarat.gov.in |
| Bihar (BR) | ceobihar.nic.com |
| Haryana (HR) | ceoharyana.nic.in |
| Himachal Pradesh (HP) | himachal.nic.in |
| Jammu and Kashmir (JK) | ceojk.nic.in |
| Karnataka (KA) | ceokarnataka.kar.nic.in |
| Kerala (KL) | ceo.kerala.gov.in |
| Madhya Pradesh (MP) | ceomadhyapradesh.nic.in |
| Maharashtra (MH) | ceo.maharashtra.gov.in |
| Manipur (MN) | ceomanipur.nic.in |
| Mizoram (MZ) | ceomizoram.nic.in |
| Odisha (OR) | ceoorissa.nic.in |
| Punjab (PB) | ceopunjab.nic.in |
| Rajasthan (RJ) | ceorajasthan.nic.in |
| Sikkim (SK) | ceosikkim.nic.in |
| Tamil Nadu (TN) | elections.tn.gov.in |
| Uttar Pradesh (UP) | ceouttarpradesh.nic.in |
| West Bengal (WB) | ceowestbengal.nic.in |
| Delhi (DL) | ceodelhi.gov.in |
How to find out Voter ID status by name?
Just log on to the official website of election cards and enter the following details:
Name
Father's name
Age
Gender
Name of the state
Name of the district
How to search Voter ID Card Status through Number?
If you want to know whether your name has been included in the electoral roll of the constituency, you can access the website for National Voter's Service Portal (NVSP) to carry out an electoral search. To retrieve the information, you need to follow these steps:
Go to the NVSP's website
Choose "search your name in electoral roll" listed under "National Services"
Then you will be redirected to http://www.electoralsearch.in
Click the second tab to search by EPIC no.
Following are the details you need to enter:
Name
Age/date of birth
State
District
Assembly constituency
Father's/Husband's Name
Gender
Code or captcha to perform the search
6. By using the map on the search page, you can also locate the area.
The search result will provide you with various types of useful information listed below:
Find your respective polling station.
Download or print voter information slip.
Apply for address change.
Find your Booth Level Officer (BLO) and Electoral Roll Officer (ERO).
Find District Election Officials and officials in Chief Election Office.
There is another system also available by sending SMS to NVSP on the provided numbers. Kindly, refer to NVSP's website for various guidelines concerning the voter ID card.
For further more information regarding business, you can visit our website Legal Raasta. Give us a call at 8750008585 and send your query on Email: [email protected]. Our expert team will help you the best on any issue.